Bowers and Wilkins Zeppelin Air speakers
iPod dock with AirPlay for high flyers
Join the docks
Setting up the AirPlay function is a one-off affair. You connect the Zeppelin Air to your computer using the supplied Ethernet cable (you don't need to be connected to the Internet for this), call up a page in your browser and tap in the details that allow iTunes to find it via your Wi-Fi network, and you're ready to go.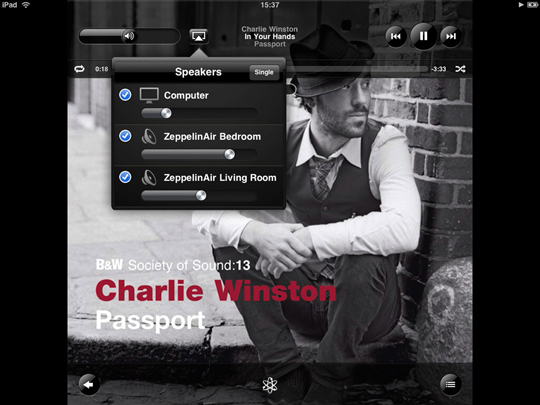 The iPad won't fit in the dock, but you can use AirPlay to stream to the speakers instead
Your iPod or iPhone slots neatly into the dock at the front which actually feels more secure than it looks and it will charge while it plays. If you choose to go the Wi-Fi route (and let's face it, if you've just shelled out £500 on one of these, you will), you simply select the Zeppelin Air using the AirPlay button on your computer's iTunes (10.1 or later) interface. You can also download the AirPlay app to your iOS device (4.2 or later) which allows you to control playback with a bit more freedom than the basic controls on the Zeppelin's own egg-shaped remote.
While I didn't have an original Zeppelin for direct comparison testing, the fact is that the Zeppelin Air sounds terrific, with a muscular, cohesive sound that works hard to make the most of compressed music tracks.
Something you expect from B&W is control, and that's certainly the case here. Even cranked up all the way (and it certainly gets up to house party levels), there was no sign of crack-up in the bass, and the treble never started to sound ungraciously shrill. It handled the glorious polyrhythmic racket that is the new Ojos de Brujo album with aplomb, pulling out the kind of detail you wouldn't normally expect from an iPod dock, even with the volume turned down fairly low.