Nintendo 3DS
Raise your glasses?
From the side
The 3D effect fails spectacularly when shoulder surfing. The sweet spot is - on paper at least - rigidly constrained. 3D is visible only with the device held directly in front, appearing at around 20cm and, optimally, between 30cm and 50cm.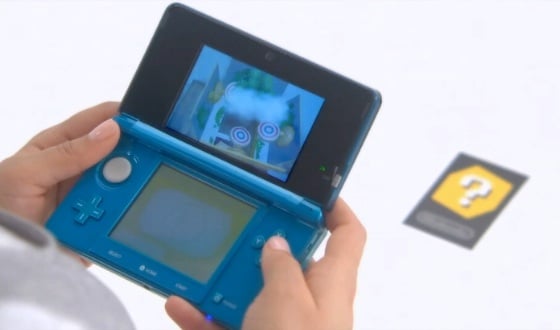 AR pulls 3D objects out of real ones
Too close and your eyes lose focus, too far and depth becomes increasingly indiscernible. Move your head 5cm to either side, or rotate the device through a mere five degrees, and dark smudging streaks across the screen – instantly familiar to anyone who spent their childhood delving into cereal boxes for lenticular cards or stickers.
Fortunately, the sweet spot is exactly where you need it, well within the bounds of comfortable handheld use. The 3D slider setting works well in fine tuning the effect to suit individual eyesight, viewing distance and specific applications – I found the maximum setting perfect for SSF IV, but nudged it down slightly to prevent over-focusing on foreground objects in Pilotwings Resort.
The slider also turns off 3D entirely. This rested my eyes after long bouts of play, and proved vital when in direct sunlight, which completely scattered the 3D image.
While the 3D effect proved comfortable through several hours' continuous use - I experienced none of the nausea or dizziness reported by some reviewers - a few design flaws proved much less so. The analogue Circle Pad is extremely comfortable and responsive - a vast improvement over the PSP's nub. But in accommodating it, the + pad is positioned too low. When using it, the device felt less snug in-hand and quickly led to thumb cramping.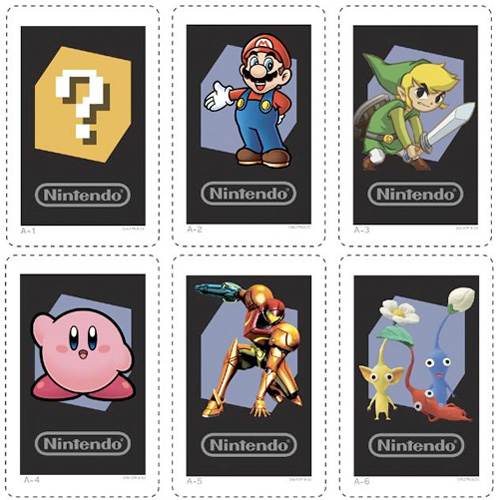 Card sharp: bundled collectable cards trigger Augmented Reality graphics
The return to smaller form-factor and gloss body finish are also unwelcome. The screen size, albeit larger than the original DS and slightly wider than the DSi, disappoints after the luxury of the DSi XL - although the higher screen resolution softens the blow. And the face buttons, although well usable in isolation, became RSI-inducing when combined with the shoulder buttons in SSF IV. The telescopic stylus is inconveniently placed near the centre at the back of the unit. Worst of all, the Select, Home and Start buttons are housed in a membrane bar with all the tactility of a ZX81 keyboard.