12Mb/sec to a mobile telephone, but is it a new generation?
Verizon launches what it likes to call 4G telephony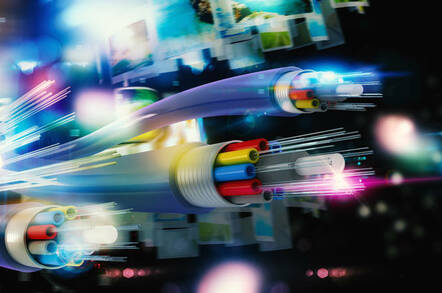 Verizon has launched the HTC Thunderbolt, bringing 12Mb/sec data to a mobile phone if you can get coverage, but whether or not it is the first 4G phone is a rather more complicated question.
The Thunderbolt is certainly a nice enough phone – Android 2.2 with HTC's Sense interface layered on top, up to 12Mb/sec download and 5Mb/sec upload where LTE coverage is available, and dropping back to 3G elsewhere. But it's not the first 4G handset, despite being what we in Europe would call 4G, as the US has an operating WiMAX network and American marketeers have been quick to muddy the waters about what constitutes a generational shift.
Analogue networks were the first generation, and the switch to digital is universally recognised as a generational shift, but after that things get a little more complicated. GPRS (General Packet Radio Service) provided better connectivity by slipping data between the voices, but when that developed into EDGE (Enhanced Data Rates for GSM Evolution) it became, officially, a "3G" technology as recognised by the International Telecommunications Union (ITU), which has traditionally presided over such things.
But no one else ever called EDGE "3G", that moniker was reserved for services operating in the 2.1GHz band, which was auctioned off to such excitement in 2000. Even Apple declined to claim the first iPhone was a 3G device – despite its support for EDGE.
With 4G things get even more complicated: HSDPA and HSUPA (High Speed Download/Upload Packet Access) both improve the performance of 3G (W-CDMA, Wideband – Code Division Multiple Access) have been depreciated into HSPA (High Speed Packet Data). But that is still known, pretty universally, as 3G.
HSPA connections can then be aggregated, created HSPA+ and upping the speed further, which some US networks (notably T-Mobile) have decided makes them worthy of a generational shift to 4G. That devalues the network technologies that more-legitimately call themselves 4G – WiMax and LTE - which is rather the point. But even those technologies aren't "4G" in the eyes of the ITU, which reckons neither is fast enough to be considered a generational change, though it is prepared to accept that some people like to call them that.
Here's a picture, just in case it's all getting too confusing: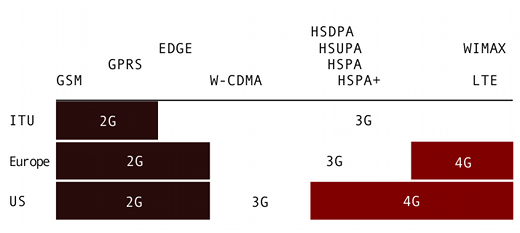 Who says what is what, but not why
For those interested in actual speeds, rather than what the technologies are called, PC World has a decent comparison that rates Verizon's LTE as the top performer if you can afford it. That could challenge many, as a Thunderbolt will cost you $250 up front, and a two-year contract for voice ($40) and data ($30) with a 2GB cap will set you back another wad of cash – but at least you'll be able to say you have the latest generation of mobile telephone, probably. ®