Panasonic HDC-SD900 camcorder
Full HD with 3D extras
Review The HDC-SD900 was the first of Panasonic's expanded 3D camcorder range to arrive in the UK. It sits below the HDC-TM900 and HDC-HS900 (which offer 32GB memory and 220GB HDD respectively), but shares the same functionality, recording Full HD and 3D video to SD card.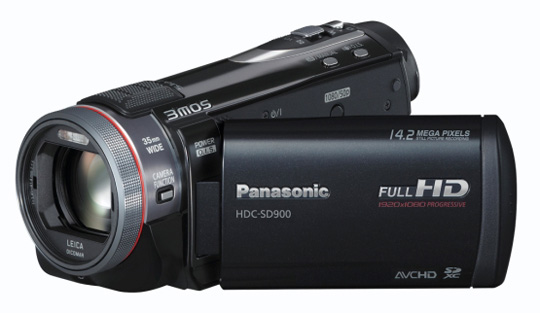 Card sharp: Panasonic's HDC-SD900
If you're keen to film in 3D you'll also need to invest in the VW-CLT1, an optional conversion lens. For a camcorder so feature laden, the HDC- SD900 is a snap to use. A generous 3.5in touchscreen allows easy flipping between a fully automatic IA mode and manual (shutter, iris, WB, focus) controls.
The SD900 offers a variety of 1080i AVCHD shooting options (you can choose from four quality grades distinguished by bit rate, of which the best overall option is probably HG), as well as 1080/50p for the highest possible picture (with a massive 28-Mbps bit rate), plus iFrame for Apple fans. I suspect the latter will be a huge draw for users of Mac editing packages, as it eliminates the need for time-consuming file conversions. Note iFrame records in a 960 x 540/30p format.
Naturally, the SD900 will also shoot digital stills and these clock up a respectable 13.3Mp in size. There's an integrated auto flash, featuring red eye correction, for when light levels dip. The film/camera mode selector sits near the viewfinder and is easily manipulated. Alternatively, you can grab snaps during live filming. 

Also on-board is Panasonic's Optical Image Stabilisation (OIS) handshake-compensation tech. It's a lifesaver on the brand's Lumix compacts and disguises a world of fumbles when you can't be bothered to use a tripod.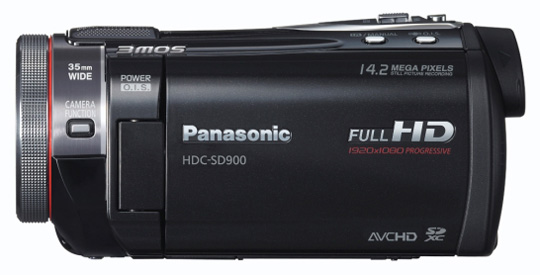 The 3MOS sensor delivers images with precision
2D Full HD picture quality is excellent. There's a stunning amount of detail in the SD900's hi-def images, and colour performance is outstanding. Much of this can be attributed to the 3MOS image sensor, which offers thrice the fidelity of cheaper, single chip 1 MOS shooters. Wildlife footage shot on a crisp, bright day zinged with colour; with big close-ups of hungry swans revealing scads of feathery fine detail.