Intel and server buddies forge micro boxes
Tiny Xeon blade-rack hybrids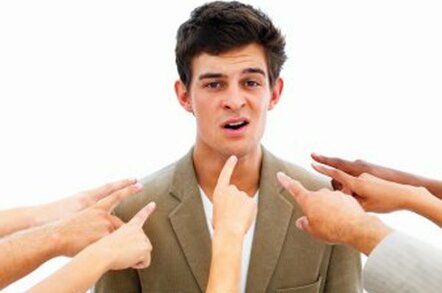 The Server System Infrastructure forum, which has been trying to establish blade and rack server standards for years, is moving into a new category called micro servers. And Intel is blazing the trail for the tiny form factor, together along partners Dell, Tyan, and Quanta Computer, which make motherboards and systems.
Last week, at the "Day in the Clouds" event that Intel hosted at its Beaverton, Oregon labs and fabs, Jason Waxman talked about a lot of things cloudy, and as he did, he passed around a prototype machine he called a micro server.
As it turns out, the prototype machine that Waxman passed around for all of us to examine is one of a number of machines that will be coming out to support the SSI standard for this new form factor. Waxman didn't want to say much about the new machine, but Kevin Huiskes, director of cloud computing initiatives at Intel, spoke to El Reg about these small footprint servers which borrow ideas from both rack-style and blade form factors.
"Micro servers fit under a pretty broad umbrella," explained Huiskes. "We define it as any server with a large number of nodes, usually with a single socket or multiple low-power processors and shared infrastructure."
The target market for these boxes is the low-end of the dedicated hosting market, where having a physically and electrically distinct machine is sometimes still important to customers. Or it might be for relatively simple Web applications where the workload is light and the I/O requirements are not too intense.
"There's a spectrum of workloads where this type of server works, and others where they will not," says Huiskes. For instance, you could use these baby servers to do basic sorting on big data using an open source program like Hadoop, says Huiskes, but if you want to group data together and then do another sort, they don't have enough processor or I/O oomph.
Here's the basic architecture of a micro server machine, taken from the SSI specification, release 1.0.0: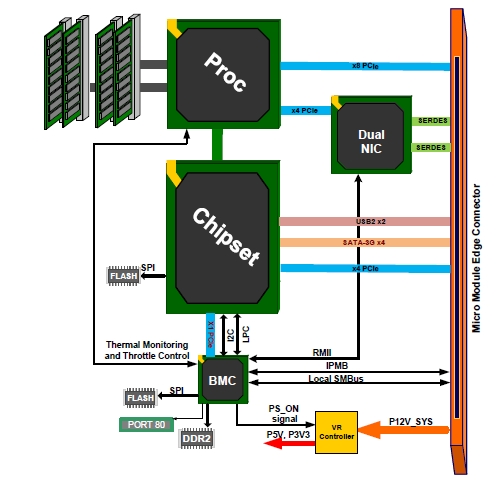 The SSI Micro Server architecture spec
The specification is, as all SSI standards are, very detailed in terms of the size of components and how they interconnect. Maintaining compatibility is, of course, the whole point of SSI specs. (Even if most of the major server vendors ignore such specs most of the time because they want account control for the boxes they sell.) The micro server includes a single processor socket, a chipset to go with it, a baseboard management controller (BMC), local flash memory for the BIOS and BMC firmware, memory, voltage regulators, and an edge module interconnect where the micro server hooks into the chassis to link out to I/O and to draw power. The current spec has four SATA ports, and the baseboard and backplane connectors have to all draw from the same 12-volt power rails. This means that a chassis supporting one kind of micro server should be able to support another one.