Dragon Age II
Hit and myth
The plot thickens
To briefly summarise the plot, what you'll be playing through is essentially a story retold by the rogue dwarf, Varric (a soon-to-be sidekick), who currently resides at the whims of 'seeker', Cassandra. For whatever nefarious purpose, it seems she's chasing information on the champion's rise to power. "Everything! Start at the beginning!" She hisses at Varric when he asks what she wants to know.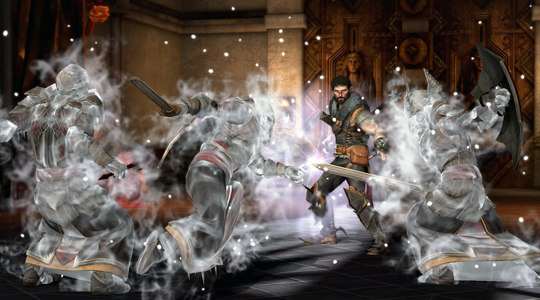 Play misty for me
Before you know it you're knee-deep in prologue, introduced by Varric's narration over some very nicely produced cut-scenes. We join Hawke and his family as they flee for their lives from pursuing darkspawn – tainted monstrosities – as they make for Kirkwall where they supposedly have a family home – ah, the best laid schemes of mice and men…
Even at these early stages you'll encounter characters and take decisions through the use of the dialogue wheel – a port straight from Mass Effect 2 – which affects the game's narrative. For instance, you'll quickly meet the warrior, Aveline, with her Templar Knight husband. Before long you're set upon by darkspawn, triggering a sequence of events which leads the death of two members of your group. How Hawke reacts to these deaths shapes how friendly his remaining companions are to him; a relationship under constant flux as Hawke's every action and reaction correlates directly to their perception.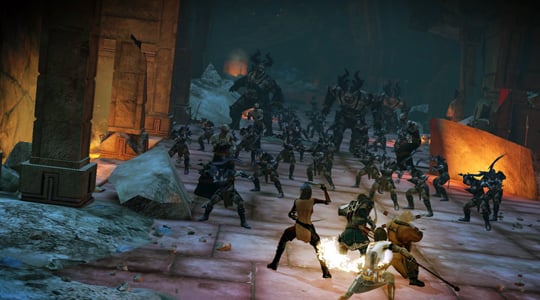 Here comes the hotstepper...
One criticism of the dialogue wheel though is that BioWare has gone with the option of including three stock responses to most conversations: benevolent, blunt and wise-cracking. Now, injecting a little humour is all well and good, but to include such amounts of sarcasm rather depletes Hawke's standing as the heroic type, and it doesn't help that some of the jokes are on the tiring side and that's without going into some of his 'romantic' encounters – good grief.