Connecticut suspect's 'half-ro' haircut wows web
Quite a head of hair, police mugshot shows
The police photo of a Connecticut stabbing suspect has shown why it is a really bad idea to flee the scene of an afro braiding before your hair has been fully been brought under control.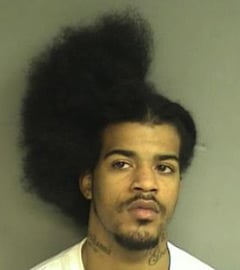 The snap of 21-year-old David Davis has joined that of David Jonathan Winkelman in the internet hall of mugshot fame following the traditional rapid dissemination across cyberspace of the astounding haircut.
According to this local report, Davis was getting his locks tended at an apartment in Stamford on Tuesday, when he was approached by an unnamed man acting in an "aggressive manner".
The perp allegedly picked up a pair of scissors and slashed the chap across the back, before making good his escape.
The dude with the "half-ro", as some papers have dubbed it, was cuffed shortly afterwards, charged with the stabbing, and is being held on $5,000 bond ahead of a 22 March appearance before the beak. ®