Fight Night Champion
Smack my mitts up
Stallone would be proud
"Nobody could help me, I had to help myself." says Bishop during one of many textbook script moments. I don't want to ruin anything, as it's worth playing the game just to laugh at how awful the story is. This is a brilliant kind of awful though and fans of the Rocky movies will be in their element. Fight Night now has the makings of a Hollywood boxer film and it's a knockout improvement.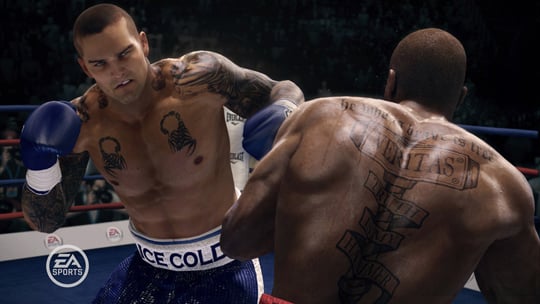 Giving it to him in the ring
The main problem with Champion Mode though is it's so linear and there's almost no opportunity for failure. Sometimes you have to knock someone out, or win with one hand, or strike only with body shots. If you fail to comply, it's straight back to a checkpoint. Boxing doesn't need to be so cut and dried and it detracts emotion from the character. Then again, I'm doubtful a less linear scenario would work, especially after the bore of Legacy Mode, which returns again with imperceptible refinement.
Legacy Mode is similar to that in Fight Night Round 4: take a character from Amateur to Pro, then enter a training camp full of frustrating mini games in order to gather points which are delegated onto your fighter's skill sets. It's certainly more personal, but lacks the enjoyability of the cliché storyline and doesn't match up to creating dream bouts with mega-stars of the boxing world.
That mode is still there, of course. Fans are able to see what might happen when the Hayemaker meets one of the Klitschko brothers, or opt to recreate classic bouts such as Sonny Liston and Muhammad Ali instead. The irony of fighting with ex-boxers on a Playstation 3 isn't lost on me, but this is no time for jokes, Mike Tyson is about to fly into Evander Holyfield, lugging it out all the way. It's nothing new, but this is what I play these games for. When my friends come over, they're gonna get a beating, and for those moments, Fight Night will never tire.
If you're on your own and fancy some furious fist thrashing, there's an on-line mode too. Here, you can create a gym and have others join, enter tournaments and fight people with better intelligence than the AI of the actual game, one hopes.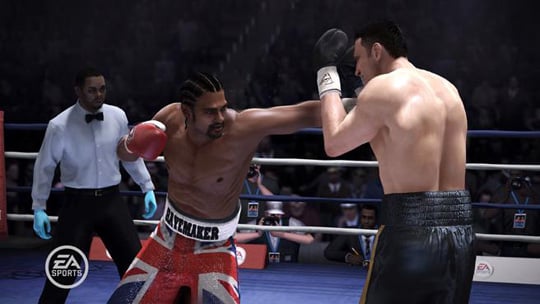 Haye that hurt!
Each famous boxer looks and moves like his real life counterpart, but when battling the AI, an element of personality is missing. Mike Tyson would never act like this in the ring. The dude would eat a guy, literally. Not here though and from what I can see, statistics aside, there is no personalised AI and therefore very little difference in how an opponent actually approaches the fight.