Nintendo 3DS to get battery boost
More juice for journeys
Accessory producer Nyko has knocked up a solution for the short battery life of the Nintendo 3DS with a juice pack that attaches to the back of the console, doubling its runtime.
One of the biggest complaints overseas punters have about Nintendo's forthcoming handheld - it launched in the UK on 25 March - is the battery life of just 3-5 hours, with market research suggesting a third of us are put off buying the 3DS by this low longevity.
So, say hello to Nyko's Power Pak+. Although it looks a bit clunky, the company claims the extended battery can increase playing time by 50 per cent.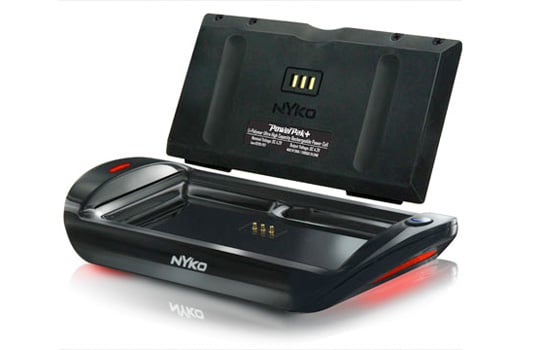 Please sir, can I have some more?
The Power Pak + will be available in the US for the 3DS launch on 27 March. While the single unit costs $20 (£12), a bundle pack with a charging cradle thrown in will cost $30 (£18).
Unfortunately, there's no UK release date yet, but with all this bother over battery life, it can't be long before such products appear. ®