Intel's vPro biz chips cross Sandy Bridge
Desktops and laptops now, workstations soon
With the new AES encryption instructions added with the Sandy Bridge Core chips (and first delivered with the "Westmere-EP" Xeon 5600s a year ago), encryption and decryption of data can run as much as four times faster as it did on prior Core chips (which had to do the AES math the hard way without dedicated instructions).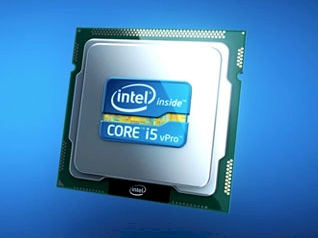 Like the label says: Intel's Core i5 vPro chip
The i7 version of the new vPro chip now has a remote controlled keyboard-video- and mouse (KVM) capability baked into the chip, which can be activated by system administrators working remotely before the OS boots. This means PC makers don't have to put a special KVM chip onto their machines to get this capability. (vPro-capable Core i5 chips already had this function.)
That KVM now can have a 1900 x 1200 resolution, too, which means system admins can properly see system BIOS and operating system screens, not always possible in low-resolution safe-mode booting situations. This higher res is available in all four 2nd Gen Core vPro processors.
All four of the new vPro chips also sport a faster Direct Memory Interface (DMI), which links the I/O southbridge in the chipset to the Sandy Bridge Core chips. (The Sandy Bridge chips do not have a separate northbridge in the chipset, which used to be a standalone chip for linking a CPU to main memory and graphics.)
The DMI 2.0 interface runs at 5 GT/sec, compared to 2.5 GT/sec on the prior vPro chips in the Core i7 and i5 families. All three chips are implemented in a 32 nanometer process by Intel and plug into the LGA1155 sockets.
You can read a whitepaper describing the 2nd Gen vPro chips here (pdf).
It may not have been clear from the announcement which desktop and mobile Sandy Bridge processors have vPro, Intel did say that it would be extending the vPro capabilities out from desktops and laptops to entry-level workstations.
Specifically, Intel said that the future Xeon E3-1200 family of chips, which are based on the Sandy Bridge designs and which will have some chips with embedded HD graphics and others that don't have it, will have at least some models that have the vPro extra goodies on them.
Workstations based on this "soon-to-be-released" Xeon E3-1200 family, which plugs into single-socket servers and replaces the older Xeon 3000 series of chips. These chips were expected sometime around the first quarter of this year. ®
Sponsored: Detecting cyber attacks as a small to medium business