THQ brings the uDraw GameTablet to Blighty
Who said videogames couldn't be art?
Hands On Today sees the UK launch of THQ's uDraw GameTablet, a fresh way for kids and families to interact with their Nintendo Wii console.
I took a trip down to the uDraw showcase event in London this week to catch up with the developers, the THQ team and special guest star Korky Paul, the children's book author and illustrator, to see what this GameTablet is all about.
I also brought along my eight-year-old rugrat to get a real impression of how much fun the uDraw is for a child - she's been trained to be as brutally honest as the rest of The Reg team too, you see.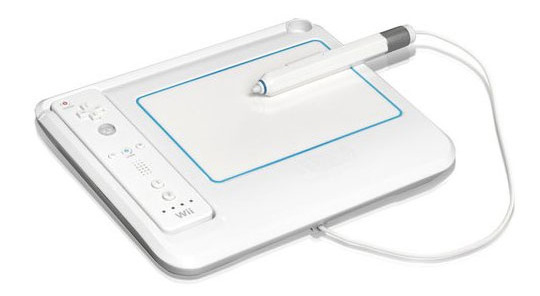 Within seconds of arrival she plonked herself in the middle of two older gamers immersed in a round of uDraw Pictionary and completely took over, which gave me a chance to speak to the developers and get a grip on the technical side things.
The Wii remote sits in the uDraw, which connects like a nunchuk peripheral, drawing all the power it needs from the Remote. The board is reasonably small, with a responsive surface area of 4 x 6in and the chunky pressure-sensitive stylus has two buttons which are effectively the C and Z buttons of the nunchuk. The entire board is motion sensitive too.
The uDraw GameTablet - which has sold more than a million units since its launch in the States in November 2010 - doesn't just mean kids have an inexpensive tablet for artistic creation on a games platform, but opens a new dimension for Wii gaming altogether. A taste of this can be seen in Dood's Big Adventure, also out today.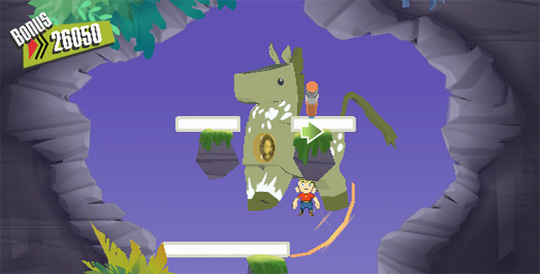 Dood's Big Adventure is basically the Nintendo version of Little Big Planet. It doesn't quite match up to LBP in terms of design, but the control system is certainly interesting. As you can imagine, the uDraw is used to sketch objects that help Dood around the place, as well as navigating using the device's motion sensor. It's quite an experience, although difficult to initially grasp.
It makes me think of popular internet Flash games such as Magic Pen, but all the more more refreshing as there's no need to use a mouse. THQ says the platform will see heaps of games based around this function, and it has a packed release schedule.
The uDraw may look like a Fisher Price art tablet, and to a degree it is, but the device is clearly built to last. It's apparently crush proof, able to take some heavy knocks and should be waterproof too, provided you don't splash liquids on the Wii Remote itself.
I didn't get much of a chance to play, so have to rely on the expert's opinion now, who after having a long one-on-one art session with Winnie the Witch illustrator Korky Paul, certainly had a better grasp of how much fun the uDraw is.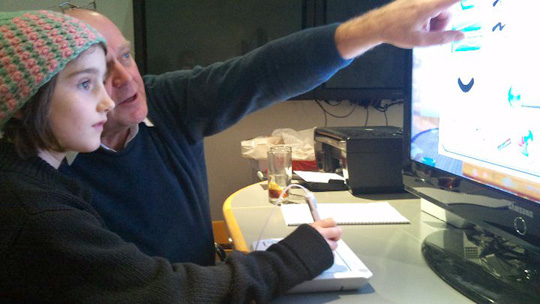 Metta-Angel gets an art lesson from Korky Paul
She clearly enjoyed uDraw Pictionary, which according to her was much more entertaining than Guess the Sketch on Facebook. But over all she reckons the device leaves much to be desired. Would it be used much at home? Supposedly not, unless the games are less confusing and take less familiarisation. She clearly prefers paper and crayon to using an art tablet and I'm sure Korky would agree, if he was allowed to.
The uDraw GameTablet is available today for £50 and comes bundled with uDraw Studio. Other games, such as Dood's Big Adventure and uDraw Pictionary can be picked up for £20, with Spongebob Squigglepants set to follow in April.
If you'd like to try before you buy, then get down to a THQ event as it goes on a ten-week uDraw shopping centre tour to give UK consumers hands-on time with the device. ®