Olympus PEN E-PL2 Micro Four-Thirds camera
EVIL by design
Image conscious
The E-PL2 underlines its suitability as a low-end DSLR alternative with its continuous shooting performance. Olympus claims 3fps, and checked against a stopwatch the E-PL2 actually performed very slightly faster. In top-quality JPEG mode the E-PL2 grabbed 13 shots in a little over 14 seconds before slowing down. It was just as fast capturing RAW files, although the buffer coughed its last after just nine frames.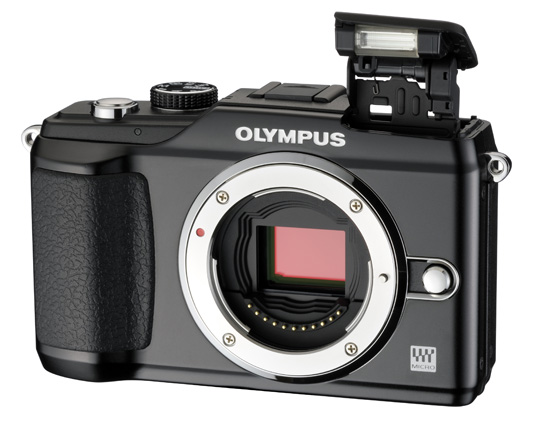 Unlike the early PEN models, this one squeezes in a flash
All that performance is worthless if the E-PL2 doesn't produce decent images, and my initial reaction on seeing the results was one of slight disappointment. Where other manufacturers - namely Nikon and Sony - have made spectacular strides in image quality over the years, the E-PL2 doesn't offer a significant improvement over its 18 month-old sibling.
Compare images taken at ISO 3200 from both cameras, for instance, and telling them apart is tricky. The disappointment is compounded by the fact that the E-PL2 offers a stop more ISO (a maximum of ISO 6400) than the E-PL1, but the improvement is moot without a corresponding jump in image quality.
However, just because little apparent progress has been made doesn't mean the E-PL2 takes bad pictures. Instead, the 14-42mm f/3.5-5.6 lens (equivalent to a 24-84mm lens in 35mm terms, thanks to Four Third's 2x conversion factor) proved superbly sharp, and test images taken at less than ISO 1600 gave no cause for concern.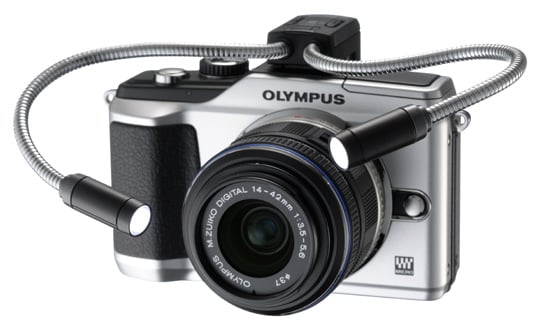 This macro illumination accessory plugs into the versatile hotshoe mount adapter that has a variety of uses
It's particularly pleasing to note the lack of chromatic aberration, and those with roomy pockets will appreciate how the extending portion of the E-PL2's kit lens can be retracted into its own barrel for stowage. There's compatibility with Micro Four Thirds lenses, and standard Four Thirds lenses with an adapter. For those who don't want to invest in entirely new glass, Olympus is promising screw-in filters for macro and fisheye effects in the coming months.