Olympus PEN E-PL2 Micro Four-Thirds camera
EVIL by design
Review When the original Olympus PEN E-P1 came out in 2009 it arguably marked the start of a revolution. Its mirrorless design meant that it was far smaller than a DSLR, yet its relatively large sensor meant it took considerably better quality images than compact cameras; besides that, its retro Japanese styling also made it a far more tempting proposition for consumers everywhere.
Retro refresh: Olympus' PEN E-PL2
A year and a half later and Olympus is still attempting to lead the mirrorless pack, despite the likes of Panasonic, Sony and Samsung throwing their hats into the ring, and rumoured entries in the EVIL (electronic viewfinder interchangeable lenses) marketplace from Nikon and Canon likely later this year.
The Olympus PEN E-PL2 attempts to build on the excellent year-old PEN E-PL1. The grip has been redesigned slightly, and the LCD on the back has grown from 2.7in to 3in. Its Micro Four Thirds sensor remains at 12.3Mp, though.
The gently redesigned body is as good-looking as ever, and at 115 x 42 x 73mm it remains small enough to slip into a jacket pocket. Olympus has made the E-PL2 more comfortable to hold, with the curvier, slightly larger-feeling grip better suited to adult hands. The body is made from a combination of plastic and aluminium, and as a result feels sturdy and shock-proof. Even the slightly fussily designed pop-up flash feels like it should resist its share of abuse.
The body controls are nicely laid out, with everything falling quickly to hand. The mode dial on the top clicks smoothly around, while the button arrangement on the back, in combination with the smooth, intuitive menu, makes setting the camera up simple.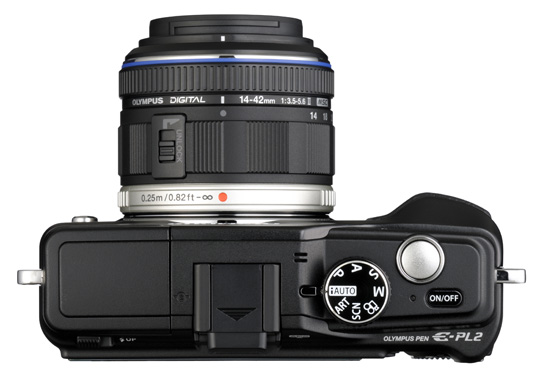 Dial M for manual
Almost, anyway. Flicking through settings - shutter speeds, for instance - is controlled by the wheel on the back, and this is the only place where the E-PL2's usability falls down. The dial doesn't turn terribly easily, yet give it too much pressure and you'll trigger the shortcut keys at each of its compass points.
Sponsored: Detecting cyber attacks as a small to medium business