Ford CEO talks up e-car future
Alan Mulally speaks out on platforms, prices and power generation
Infrastructure not infra dig
With that in mind, 600 miles to the south of Hanover, Ford pulled the dust-sheets of the C-Max Energi and Hybrid models – the Energi is the plug-in version – at the 2011 Geneva Motor Show.
Sadly, technical details were thin on the ground. Ford would only say that the Energi will travel 500 miles on a full charge and full tank but not how that splits down between EV and ICE range and that both it and the Hybrid will use Li-ion batteries and a 2.0-litre Atkinson Cycle - a scheme that trades power output to maximise the energy to be gained from the burned fuel - four-cylinder engine.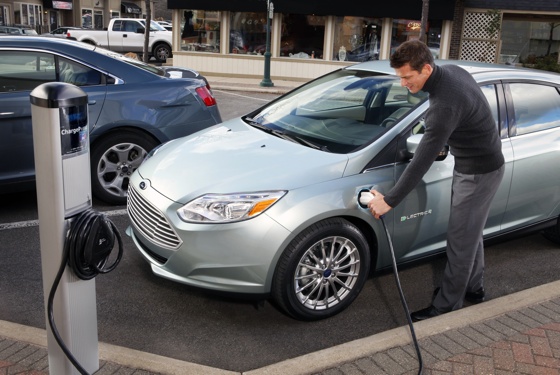 Ford wants to help develop charging infrastructure
When I asked Mulally if he saw lithium availability as being a potential limiting factor, his answer was a direct "no". Ford's research show existing Lithium deposits are sufficient to keep the e-cars rolling into the foreseeable future and beyond.
Mulally was also keen to stress that Ford is aware of the whole carbon cost of e-cars. The environmental drum can only be beaten so hard if the electricity used to power an e-car is coming from coal-fired power stations, for example. Running an electric car in Paris is a green option, doing the same in Detroit is less so.
Though power generation goes beyond the remit of a car company even the size of Ford, Mulally emphasised Ford's willingness to forge partnerships to develop charging infrastructure and smart-grid systems. ®