Compellent driven into datacentre by Dell
Going deeper into development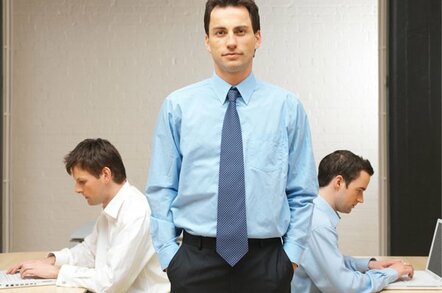 Comment Compellent is now formally part of Dell and it is going to develop its technology so it can go deeper into the datacentre.
Dell's Darren Thomas, its VP and general manager of storage, blogs: "Our storage vision has always been to make data management easier and more affordable ... The acquisition of Exanet technology provided a scalable file system that promises scale-out benefits similar to EqualLogic arrays and an intuitive unified management console.  "The Ocarina acquisition provides the industry's best optimisation capabilities which will enhance Dell's storage software portfolio – a portfolio that is already feature-rich. Today, we are officially taking another step toward changing data management by completing our acquisition of Compellent."
"We're creating unique storage capability – not bounded by legacy thinking – that will enable customers to store more data, move it more freely and keep more data online."
The Dell in-house storage lineup looks like this
PowerVault entry-level stuff

EqualLogic iSCSI SAN (aka small/medium business SAN)
Compellent Fibre Channel SAN (aka enterprise SAN) scales up to 2PB
Exanet scale-out NAS
eventually DX6000 object storage (via OEM'd Caringo)
Ocarina deduplication technology is a storage application
Is there a Dell storage vision? We guess it can be pretty much encapsulated as selling more storage boxes into the main storage markets using products that are differentiated and overlap as little as possible and offer "better ways of storing data."
There isn't an overarching vision, equivalent to "Where information lives" (EMC), or "Bridging the gap between data explosion and storage infrastructure" (HP) or "Dramatically improve storage efficiency and application performance" (IBM) – but such things are easy enough to dream up.
What's going to be fun to see is how Dell drive's Compellent's direction. Guesses about this include much more software storage functionality; Compellent's storage controllers have a ton of processing power available and things like federation and primary storage deduplication are probably on the road map.
VAAI support has to be a no-brainer. Synchronous Live Volume replication we already know about, and that would provide EMC VPLEX-like functionality. Tiering with different storage tiers in different Compellent Storage Center arrays is another possibility.
We might see the results of meetings between Compellent and EqualLogic, with cross-fertilisation of the two product's technologies, particularly at a management level.
We might also hear about a Dell converged IT stack with servers, storage and, the missing link, networking. We should certainly hear more about Exanet.
There will be a combined Compellent and EqualLogic show, with the former's C-Drive and the latter's User Forum brought together into a Dell Storage Forum, to be held at the Disney Hilton Resort, Orlando, from 5 to 10 June. Expect lots of road-mappery and virtualisation/cloud storage sessions as Dell pulls out all the stops to push its now substantially broader storage product story to customers and channel partners.
Interestingly, it overlaps almost completely with HP Discover 2011, being held at the Venetian in Las Vegas. EMC World is not overlapped tough, it being held in Las Vegas and also at the Venetian. Oh well, whatever floats your gondola. ®
Sponsored: How to Process, Wrangle, Analyze and Visualize your Data with Three Complementary Tools