Sun spews out massive solar flare
Likely to switch on Northern Lights
The Britsh Geological Survey yesterday issued a space weather warning following the ejection of three substantial solar flares from the Sun's surface.
On 13 February, "rapidly growing" sunspot 1158 let rip with an ominous-sounding "M6.6-category X-ray irradiance magnitude blast" - the strongest of the year to that date, and which you can see just below the centre of the Sun's disc in this snap from NASA's Solar Dynamics Observatory (SDO):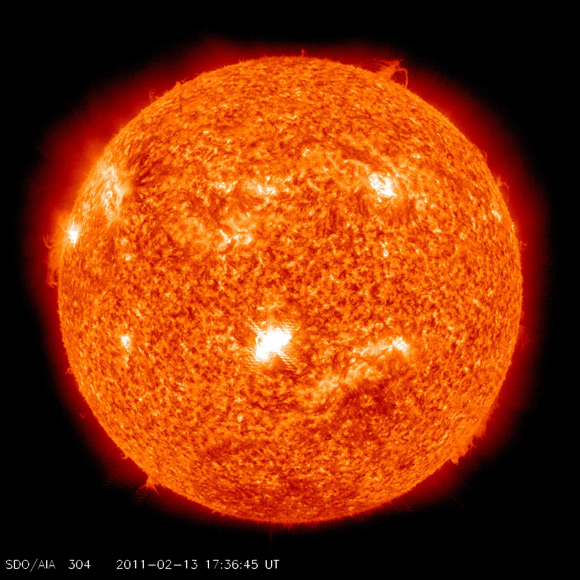 M-class flares are medium-strength solar eruptions, but the Sun quickly topped its first outburst at 01:56 GMT on Tuesday morning, blasting out a monster weighing in at X2.2 on the "solar Richter scale" of most powerful events.
It was the first X-class flare since the latest cycle of solar activity began in 2010, and the biggest for some years.
Phil Chamberlin, SDO deputy project scientist, told Space.com: "It has been the largest flare since 6 December, 2006, so a long time coming. There were some clues that led us to believe the likelihood of moderate to large flares (M class or above) could occur, but we were all surprised when it actually happened to be a large X-class."
The latest outpouring is no match for the X28+ monster recorded on 4 November 2003, and its effects will most probably manifest themselves in increased Northern Lights activity over the coming couple of days.
You might be able to catch the show at less northerly latitudes than normal "if skies are clear and the activity peaks in your local night-time", BGS helpfully adds. ®