Binatone HomeSurf 7 Android tablet
Seven-inch fondleslab for under a ton
Cost-effective?
Even so, a backlit screen isn't ideal for reading, so the Amazon Kindle is arguably better than the HomeSurf or even the iPad. The screen served video playback better, but the lack of pin-sharp resolution didn't help. Similarly, the single loudspeaker was quiet and under-powered.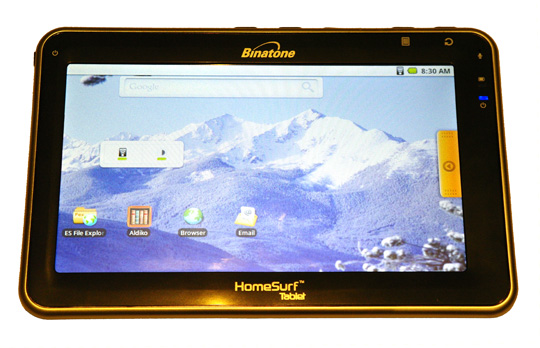 Cut price inevitably means cut corners
Battery life on Android devices is always tricky, though later editions of the software have improved power usage. The HomeSurf flattened the battery in less than a day, and recharging was through a dedicated charger not USB, which may limit your options.
Verdict
Although it's great to see competent computing power in a light, well-priced machine, it's hard to recommend the HomeSurf Tablet 7. It works well as an e-book reader, but doesn't compare to the similarly-priced Kindle. The Android system is effective and inviting but this early edition feels hobbled by the lack of many decent features. The screen is uninspiring and the build quality decidedly average. It's a great price, but you may be better off saving for a more accomplished machine. ®
More 7in Android Tablet Reviews...

Creative
Ziio
Archos
101 8GB
Huawei
S7
Samsung
Galaxy Tab
Sponsored: How to get more from MicroStrategy by optimising your data stack

Binatone HomeSurf 7 Android tablet
Android touchscreen tablet for those on a tight budget.