Binatone HomeSurf 7 Android tablet
Seven-inch fondleslab for under a ton
Mind you, there's no Sim card slot in this tablet, so you can't make calls, or connect to the Internet outside a Wi-Fi area. And there's no GPS, so you can't use it as a substitute satnav either.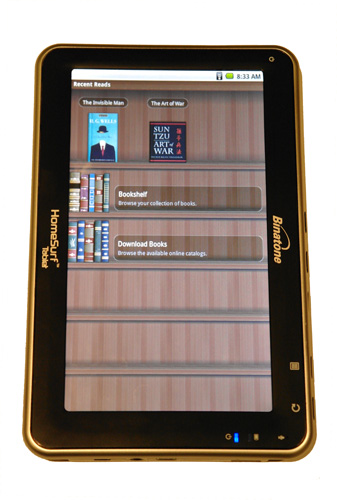 Aldiko is on-board for e-book reading
There's a stylus, albeit a flimsy and thin one, which snuggles into a corner of the HomeSurf, which some users may find handy, though frankly it's hardly essential with this much screen real estate. But if you're used to a capacitive screen on your phone, you'll miss the feather-touch needed there. And the HomeSurf's screen isn't as responsive as some, lagging behind your finger's firm touch by a small but irritating degree.
This tablet uses a version of Android which is now looking a little elderly – edition 1.6 (Donut) was launched in September 2009. Some features of later Android phones are missing and there's no Flash compatibility so you won't be able to see some websites. That said, neither can the iPad.
There's no direct access to the Android Market from the tablet, either, though you can download them when you find them online. There's also no camera on board, so many apps aren't suitable here. Binatone has embedded some, like Aldiko which is an e-book reader.
This works well, with easy-to-read design and simple navigation. And there are the benefits electronic books offer, like effective search smarts which traditional books can't match, even if they have an index.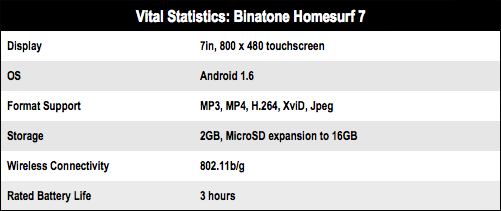 Sponsored: How to Process, Wrangle, Analyze and Visualize your Data with Three Complementary Tools