Amazon threatens Texas exit over tax bill
Don't mess with Jeff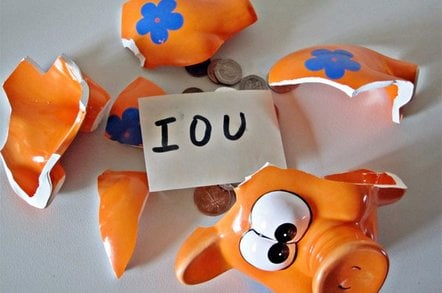 Cloud pioneer and webtailer Amazon is messin' with Texas, threatening to scrap a local depot thanks to a dispute over taxes owed to the Lone-Star state.
Amazon has reportedly told employees by email that it will be closing down its Irving, Texas distribution facility and will cancel plans to hire up to 1,000 workers.
Texas bean counters are chasing $265m in sales taxes from a bill sent to Amazon in October 2010, according to The Dallas Morning News
Amazon is appealing against the bill, but vice president of operations for the Irving operation Dave Clark apparently laid it on the line for employees. "We were previously planning to build additional facilities and expand in Texas, bringing more than 1,000 new jobs and tens of millions of investment dollars to the state, and we regret the need to reverse course," the email to staff is reported to say.
Amazon did not immediately respond to a request for comment.
Big web companies like to throw their weight around when it comes to money, and they particularly like to play US states against each other.
In 2009, cloud rival Microsoft lamented it might have to take its Azure data centers out of home-state Washington unless tax breaks on buying new systems were restored.
Where did Microsoft threaten to go? Yes, Tex-ass.
Faced with the prospect of being labeled local job killers by the tech-heavy local community, and not getting re-elected, Washington's politicians buckled and the tax break was restored - with the help of some lobbying by pressure group Washington Needs Jobs.
Amazon operates a data center in Texas - it's in the Dallas/Fort Worth area, same as Irving - but this dispute is over something closer to Amazon's heart: retail trade. The retailer has had run ins with US states over tax before. Last year, Amazon won a case against North Carolina's Department of Revenue, which had demanded records of 50 million customers' transactions between 2003 and 2010 in a dispute over unpaid tax.
The State had passed a law requiring North Carolina residents to pay taxes on online purchases. Out of state retailers can't be forced to collect state taxes, but officials had tried to claim duty for the years Amazon had worked with a network of local affiliates.
A court judge ruled the records North Carolina sought were protected under the US constitution's first amendment.
Meanwhile, Amazon cut links with affiliates in Rhode Island and Hawaii as those states passed laws similar to North Carolina. Amazon sued the State of New York in 2008 over its law forcing big-name online retailers to collect sales tax on all goods shipped to the state. ®