SGI swings to a profit on sales jump
Fiscal Q2 beats expectations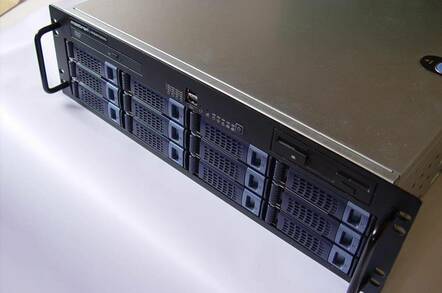 Surprise, surprise. Supercomputer maker Silicon Graphics did more business than expected in its second quarter of fiscal 2011, which ended on December 24, 2010. And in an even bigger and more pleasant surprise, the company turned an honest-to-goodness profit.
In Q2, SGI had $177.5m in revenues, up 88.6 per cent. With research and development costs flat and with only modest increases in sales and marketing expenses, SGI shifted from an operating loss of $26.3m in the year-ago quarter to an operating profit of just under $9m.
After other expenses and paying taxes, SGI brought $3.7m to the bottom line, a big shift from the $23m loss it had in the second quarter of fiscal 2010. The company added a bit to its cash pile in the quarter, and ended December with $100.9m in the bank.
SGI likes to talk about its business on a non-GAAP basis to include some services and software revenues that are booked over time when it does deals. In the second quarter, SGI's non-GAAP revenues were $185.9m, up 22.7 per cent from the year-ago quarter. Hardware and software products accounted for $148.7m of that non-GAAP revenues from Q2, while services accounted for $37.2m.
In a conference call with Wall Street analysts, SGI president and CEO Mark Barrenechea said that storage represented about $26m of revenues in the quarter, which means that compute products - clusters of rack servers bearing the Rackable or ICE brands, and the Altix UV line of shared memory supers - accounted for around $111.5m. Barrenechea did not provide growth rates for its product sales or revenue figures by product line, but he did say that all product lines - Rackable, Altix ICE, Altix UV, and InfiniteStorage - all contributed to the revenue boost.
During the quarter, the US Postal Service, which has a cluster of Itanium-based Altix 4700s to do fraud detection on 170 billion pieces of mail each year, would be upgrading to the new Xeon 7500-based Altix UV servers to support the Oracle database behind the system. The US Army and the US Air Force also bought unspecified gear in big numbers, as did Microsoft and Amazon. (Amazon was SGI's one customer that accounted for more than 10 per cent of non-GAAP revenues, as it often is each quarter.) Carmaker Chrysler (in the process of being eaten by Fiat) has tapped SGI to build its next-generation of auto-design systems as well, Barrenechea said.
While SGI has diversified a bit, thanks in large part to being acquired by Rackable Systems 18 months ago, the public sector (mostly federal governments) accounted for 62 per cent of non-GAAP revenues, compared to 15 per cent for cloud/hyperscale datacenter operators, 6 per cent for manufacturers, and 5 per cent for telecom companies.
About 53 per cent of SGI's non-GAAP sales were in the United States, with the remaining near-half being for products and services pushed outside of America. About 29 per cent of SGI's non-GAAP revenues came from its partner channel, which includes 180 downstream partners as well as system integrators like Lockheed Martin that put SGI systems inside of the weapons and control systems it builds. The remaining sales were done by SGI's own direct sales force.
SGI now has 1,361 employees, up 62 people from a year ago, and certainly nothing like the revenue growth the company has had. Jim Wheat, SGI's chief financial officer, said that SGI had reduced its inventories, expanded the company, boosted sales, and remained debt-free while keeping a lid on headcount - something about which he was quite proud.
Looking ahead, SGI is raising its revenue guidance for fiscal 2011. Business was so good in the second quarter that the company now thinks it can do between $570m to $595m in non-GAAP revenues in fiscal 2011, up from the previous guidance of $550m to $575m. That works out to a sales bump of between $5m and $30m at the low and high point of guidance and indicates that SGI sees business slowing a bit after a bumper Q2.
That said, Wall Street will no doubt be pleased with SGI because the new guidance also is for SGI to be profitable for the 2011 fiscal year, not just at breakeven as it had been projecting a few months back.
Wheat said that SGI's forecast for fiscal 2012 and 2013 remained unchanged. The plan is for non-GAAP revenues to grow between 5 and 10 per cent on an annual basis, with operating expenses growing only 2 to 4 per cent – and for the company to be profitable.
It is not clear how much revenue SGI is hoping to get from its just-announced support for Microsoft's Windows Server 2008, SQL Server 2008, and Hyper-V software on its Altix UV 100 and 1000 parallel, shared-memory boxes. ®
Sponsored: Beyond the Data Frontier