Diary of a Not-spot – the final chapter
Scot not-spot no longer
Those four little lights that mean so much...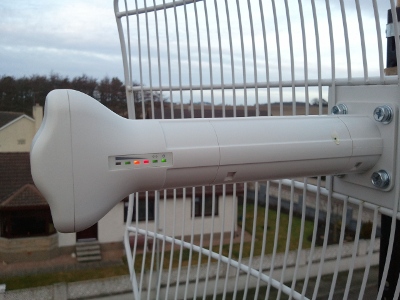 One can even see them glowing in the dark, which might annoy in some circumstances.
It's hard to convey just how much of a difference that makes; balancing on a roof trying to point an antenna at a target beyond visible range is tough, and knowing when you're pointing in the right direction helps enormously. It's also important as the 27dBi dish antenna is a lot more directional than the 16dBi one mounted in the EnGenius boxes, a slight change in direction making a big change in signal strength.
Selecting frequencies and configurations is easy, and the box had no problem picking up the access point at Claire's house once it had been set to check the right bands (seems I was previously using a US-only frequency, oops) and immediately reported a distinctly stronger connection. The interface is a joy to use, asking for criteria such as "distance" then using that to work out the best settings elsewhere – there's even a setting asking if you'd like to obey the regulatory rules, though we'd never untick that box obviously.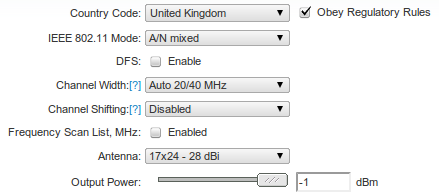 If one did untick the box, one could increase the transmit power to 20dBm – we heard...
So now my not-spot is boasting 3.6Mb/sec, dipping only slightly as the wind blows. Strong winds are always from the south here, so the wind pushes the (westward-facing) dish sideways, which has very little impact on the connectivity, at least until it pushes it over entirely.
But until then we can finally use iPlayer, the kids can watch Jane and the Dragon on YouTube and Vodafone's Sure Signal box is happily providing mobile coverage too. And if the wind does push the horse off the roof, we've proved it is possible... and there's always the option of that 40-foot mast – no planning permission required.
Now, if we can just get mains sewerage sorted, we'll really be cooking on gas (not really, obviously, gas is never coming this far north). ®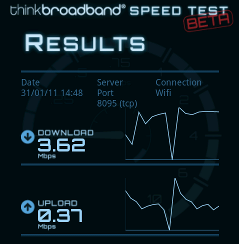 Sponsored: Detecting cyber attacks as a small to medium business