Murdoch, The Daily, and life without the web
News Corp boss trumpets big, beefy brands
Triple play plus news?
Challenged on pricing for The Daily, James Murdoch says that it is "developing", but that "that doesn't stop us investing in really unique journalism." He speculates that other pricing models could be introduced post-launch, a premium subscription, perhaps, or some kind of bundling deal. This is precisely what some of the opponents of News Corp's bid to buy 100 per cent of BSkyB fear might happen, but while that might turn out to unacceptable in the UK, that won't necessarily be the case elsewhere. Copy of The Daily with your Fox News, sir?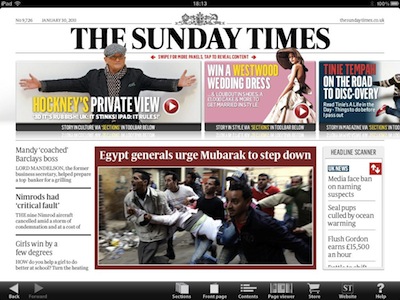 On the existing apps, he professes to be surprised by the data. Numbers of uniques on the web sites contracted dramatically, he concedes, but "engagement has been very strong" and the apps are "driving a frequency of reading that we're really surprised by." Whereas newspaper buyers will typically buy three or four days a week, app readers seem to be downloading the issue every day (possibly not a surprise, given that they've already paid for it), and are reading for 30-40 minutes a day. It seems quite possible that people reading the iPad version of a newspaper will spend more time with it than they would with the 'real' thing.
The downside is that "they stop buying the newspaper" (and the sub numbers probably aren't that great, although he didn't say that). On the positive side, however, electronic distribution is a lot cheaper than distributing physical newspapers, and it's probably (he didn't say this either) a lot better fit with the digital company News Corp thinks of itself as than dead trees are. Compare what Murdoch senior had to say last year:
I have often made the point about newspapers this way: by reminding people that we are in the news business, not the dead tree business. In other words, what makes a newspaper is its content and brand – not necessarily the form in which it is delivered.
James Murdoch denies that News Corp is "old media", and says that in his opinion the old media versus new media distinction is breaking down. Whereas critics say that by cutting its newspapers off from the web News Corp is condemning itself to obscurity, he makes the pitch that News Corp already is largely a digital organisation, with subscribers buying pay TV, telecoms, broadband, and plenty opportunities for growth and expansion of services even in the UK, which he says is "vastly under-penetrated." News Corp already has a huge paying audience in Western Europe (10 million in the UK, maybe another 10 in Italy, Germany and Turkey), and growing ones in the Middle East and India, and it has a wide-ranging pick and mix of movies, books, TV shows and news that it can sell to these.
Murdoch doesn't actually say 'who needs the Internet?', but you kind of wonder if maybe he doesn't.
But then if he didn't think the Internet was important, why would he be still talking to Google about copyright? News Corp executives have to varying degrees been ballistic about this over the past few years, but at the moment James Murdoch - while firm on the subject, strikes a positive note and refrains from abusing Google directly.
"I think there are lots of questions about what Google's relationship with copyright owners and creators is," he says, adding that "negotiations are under way" with Google. Over what? He claims that Google gets very large returns from using other people's property, and that copyright owners should receive some remuneration for being indexed by Google.
Note that although the Wall Street Journal is indexed by Google, allowing non-subscribers to read some of its material, News Corp's more recent paywall efforts have removed papers from Google's indexes entirely. Nor is it possible to email references to stories from the Times and Sunday Times apps - they're pretty much entirely cut off from the outside world.
So if Murdoch is actually talking to Google about indexing, one can reasonably deduce that this isolation could end, if the price is right. "These things are on the table", he says (one does wonder if Google is actually at that table…) and that he's prepared to "work through different structures with Google. "Maybe it's not going to work", in which case copyright owners "have to be more assertive. We need publishers to start to assert the value of their copyright in general, otherwise the only people who'll be in the business will be governments and oligarchs." ®