Icecrypt T2400 Freeview HD DVR
Media savvy?
Review Icecrypt is a little known name in the UK. Their T2200 Freeview HD box was made by Topfield and the T2400 is in fact a UK version of a product from Korean PVR maker HomeCast. It's a twin tuner unit for FreeviewHD, available with hard drives of 500GB, 1TB or 2TB.

Icecrypt's T2400: the click wheel can be used to change volume and channel when the remote goes AWOL
The unit itself is slim with a front panel VFD readout – which is not so bright as to be annoying – showing a selection of icons to let you know the disk is in use, the channel or recording name, and other info. To the right is a flap concealing a USB port, and to the left is a click wheel with two small buttons below it. You can change the volume, or channel, and even access all the menus without the remote, although navigating the menus is a little fiddly at first.
The rear panel offers a power switch, HDMI out, twin Scarts, analogue stereo, composite video, optical SPDIF, Ethernet, USB and a serial port. There's no fan and the unit is very quiet in operation. The remote is fairly large, the buttons have a positive click feel when pressed and aren't as rubbery as some. It can also be used to control the TV.
Setup of the Icecrypt T2400 is straightforward, and once tuned the picture quality for both SD and HD channels is excellent, and you can opt to have 4:3 material pillarboxed properly, too. Although the HD picture is great, unfortunately there's no Dolby Digital transcoding, so you won't get a surround sound signal from the SPDIF connection, and it's not yet apparent if that will come later in an update.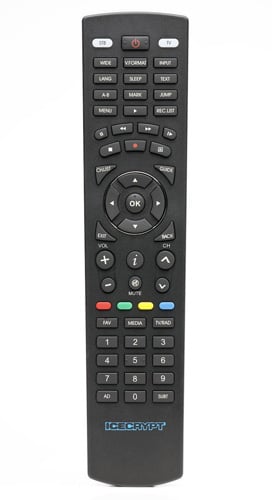 The remote can be programmed to control your TV as well
Most of the user interface is fairly clear and straightforward to use, with some nice touches – switch to BBC1, for example, when a programme's on that's flagged as being in HD, and you'll be prompted to choose the HD version of the channel instead – the same is true of setting recordings. The EPG supports searching by genre or keyword, as well.
Sponsored: Detecting cyber attacks as a small to medium business