Robust network spending drives Juniper's Q4
Too expensive to be acquired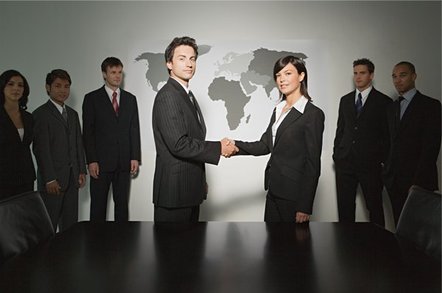 All eyes were on upstart network equipment maker Juniper Networks concerning its fourth quarter, as the company has become a bellwether of sorts for cloudy infrastructure spending.
Juniper made Wall Street happy because it had a better than expected end to 2010, and gave a guidance for 2011 that was consistent with its previously announced goals.
In the fourth quarter, Juniper's revenues accelerated and jumped up 26.4 per cent, to $1.19bn. Net income rose by more than a factor of eight, to $190.2m, as the downward pressure from the Great Recession on Juniper's bottom line went away. Earnings per share came in at 35 cents, compared to four cents in the year ago quarter.
For the full year, Juniper had $4.1bn in revenues, up 23.4 per cent, with $618.4m dropping to the bottom line, more than five times the black ink from 2009. Earnings per share came in at $1.15 for the year, up by essentially the same ratio.
For Q4 2010, Juniper had $962.2m in product revenues, up 30.2 per cent, while services revenues lagged a bit in terms of growth, hitting $227.7m and rising only 12.5 per cent.
In a conference call with Wall Street analysts, Kevin Johnson, Juniper's chief executive officer, said that bookings in Q4 were strong, that the company's backlog continued to build, and that supply chain issues that held back Q3 sales had been fixed.
Robyn Denholm, Juniper's chief financial officer, said that Juniper's Ethernet switching products accounted for $123m in revenues, up 22 percent, with the EX line of rack and modular switches bringing in $117m of that, up 21 per cent. The EX4500 and EX8200 data center switches had 88 per cent and 35 per cent sequential growth respectively, according to Denholm.
The MX series of routers accounted for $235m in sales, up 33 per cent from the third quarter and up 94 per cent year-on-year. The MX 3D universal edge router did particularly well, with $97m in revenues, up 54 per cent sequentially, and social media and Web content providers have been keen on this product.
The SRX family of router/gateways, which come in rack and modular form factors, more than doubled compared to the year-ago quarter, hitting $87m; the SRX boxes only showed three per cent sequential growth, however.
By product category, the Infrastructure Products Group, which peddles switching and routing products to data centers, had a total of $907m in revenues, a little more than three quarters of Juniper's revenues and growing 30 per cent year-on-year. The company's Service Layer Technologies products, which do other jobs on the network such as providing security, accounted for $283m in revenues in Q4, up 15 per cent.
In the quarter, service providers forked over $784m to Juniper, up 23 per cent from Q4 2009, while enterprises spent $406m, up 34 per cent. In terms of geography, growth in the Americas region was not particularly strong, up only 13 per cent to $580m, but Juniper's sales in the Asia/Pacific region were up smartly, by 45 per cent to $250m, and EMEA did almost as well, rising 41 per cent to $360m.
All in all, not much to complain about, really.
Looking ahead, Denholm said that Juniper was expecting a seasonal decline for the first quarter of 2011, with revenues in the range of $1.06bn to $1.11bn, Non-GAAP earnings per share will be between 30 and 33 cents. The company set a goal of 20 per cent or higher revenue growth going forward, and that does mean that business in 2011 could slow down a bit.
Johnson also said that the Project Falcon code to help accelerate mobile Internet content on the MX 3D routers was in beta and added that Juniper was shipping the first beta of its Project Stratus data center fabric for private clouds. Revenue is expected to start rolling in for these products during the back-end of 2011.
Wall Street was cheered by all this, driving up Juniper's stock by $6 at time of writing, to just under $37 a pop. That gives Juniper a market capitalization of $18.2bn and pretty much puts it out of reach in terms of acquisitions for all but the largest IT players.
Rival Cisco Systems could probably buy Juniper, but it would likely have to blow most of its cash hoard to do so and would no doubt get a raised eyebrow from antitrust authorities. Dell might like to own its own networking biz, but it can't really afford the price that Juniper would command. And neither can IBM with its stock buyback habits. ®
Sponsored: Quit your addiction to storage