NOVA 2 for iOS
Shoot through padding
A touch of bitterness
And so, despite further refinements in Nova 2 - including a useful customisation option that allows several interface buttons to be placed manually – no matter which iDevice you're playing on, and no matter what the configuration, the touchscreen-only tech compromises the FPS experience.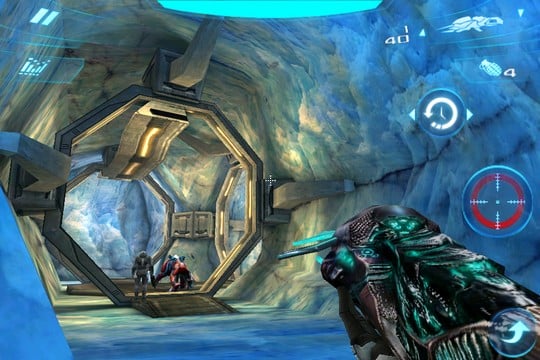 Hmm, my weapon appears to have turned into a giant caterpillar
Nowhere is this more apparent than in the otherwise competent online multiplayer mode. Playable locally across Wi-Fi and Bluetooth, or online via the free Gameloft LIVE!, Nova 2 offers the best online iOS shooter to date – almost mitigating the lack of Game Center support.
With up to ten-players playing on maps littered with jump pads and sprint routes, and with game types like InstaGib and FreezeTag, Nova 2's multiplayer harks back to the golden age of UT and Quake III Arena. But control issues are an ever present deterrent. And even though those issues are shared by all, it's hard to think why players would persist with the multiplayer offering when most have access to the superior controls offered by consoles and PCs.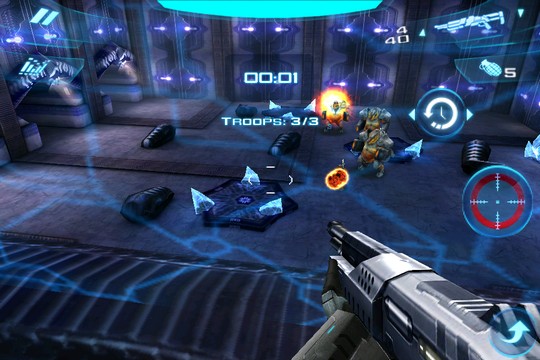 Hold on a sec..
Verdict
Nova 2 is a victim of the original's success. Despite overly-familiar gameplay, it's a highly polished, attractive and often enjoyable game. And at just £4, it represents great value for a lengthy, varied campaign and comprehensive multiplayer. But where the original proved gamers could play a full FPS on the iDevices, with the sequel unable to answer enduring control concerns, it's difficult to know why they would. ®
More Mobile Games Reviews

Lara Croft and
the Guardian of Light
Infinity
Blade
Ten Essential...
Android Games
Ten Essential...
iPhone Games
Sponsored: How to get more from MicroStrategy by optimising your data stack

NOVA 2 for iOS
An entertaining, but highly derivate game whose interface issues confirm the unabridged FPS remains tantalisingly out of reach of the iOS. Available on iOS.