NOVA 2 for iOS
Shoot through padding
Mech a lot of noise
Following in the long tradition of sci-fi sequels, the campaign advances the original's gameplay through an increased armoury, grander locales and a more bewildering story. Given the original wasn't renowned for exposition, Nova 2's narrative is probably best ignored. Suffice to say that six years have passed since the last pretext for single-handed intergalactic genocide, and some new, thinly-sketched macguffin now affords you carte blanche to do it all over again.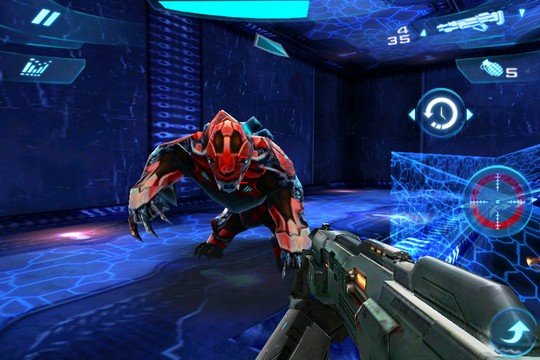 Let's play fetch, get a load of this!
A familiar range of weapons and special abilities facilitates your murderous vengeance through 12 familiar levels. But while alien plasma rifles and stasis fields will struggle to enthuse seasoned FPS players, a variety of situations and occasional scarcity of resources ensures Nova 2 entertains throughout.
Its grand set pieces might also be overly-familiar for those players, but they at least dare to look beyond Halo for inspiration, with mech combat inspired by FEAR, and an excellent sentry-gun section inspired by Half-Life 2's Nova Prospekt. Hacking also returns to provide an additional – if not taxing – distraction from regular combat, as do driving sections, in which you man jeep-mounted guns and ride rocket-firing hoverbikes. All of which helps, as they not only punctuate otherwise repetitive gunplay, but have the additional advantage of providing necessary respite from the FPS controls.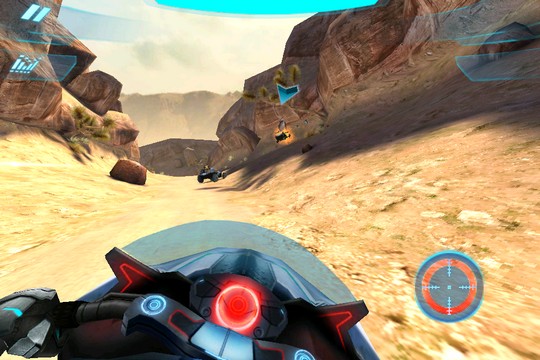 Shadow in the valley of death
While Nova 2 reconfirms Gameloft's touch-screen expertise, it also reinforces the iDevices' inherent FPS control limitations. With FPS grandmaster Id Software settling for an on-rails approach in Rage, it's obvious the twin-stick conundrum won't be solved through software alone.
Sponsored: From CDO to CEO