Razer StarCraft II peripherals set
You sure got a purty mouse
Nevertheless, this mouse does have a nice snappy solid touch to it and somehow feels quick and sly. This also has the same LED in-game events settings as the Marauder keyboard, so when you are actually in StarCraft II your mouse glows along with your keyboard. Not that you can see them too well, as your hand covers the lights during gameplay.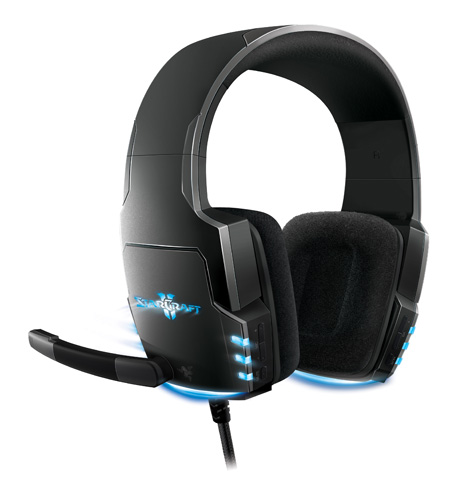 The must-have squat rave party accessory?
Of the three peripherals, the one I like most but, as it happens, use least are the Banshee headphones. I lost the mic when I wore them as a fashion accessory to deadmau5 at Earls Court. So much for making things detachable! The levels controls are on the back of the earpieces – audio volume is controlled by the right side and and the mic settings on the left. Sonically, as well as stylistically, these headphones deliver – well-contained in the bottom end, with plenty of detail in the mid-range and high frequencies.
Did I mention these headphones are HUGE? I don't consider myself to have a small girlie head and yet they swamped me and felt quite heavy but are so cool looking I couldn't help wearing them out. And yes I do know I should be using these on Ventrilo for complex tactical planning with other geeks. Girlie fail. Now all I need is the StarCraft II Zerg messenger bag...
Aimed squarely at StarCraft II fans, these Razer accessories are seriously kewl, but are way too pricey. Sell your rubbish Christmas presents on eBay and buy them anyway. Oh, and don't forget to add a mini generator so you can wear these to your next squat rave. ®
More Gaming Gear Reviews…

Sony
PlayStation Move
Microsoft
Xbox 360 Kinect
Consoles & Gadgets
Rapid Fire
Ten Essential…
Gaming Mice

Razer StarCraft II peripherals set
Danger-sensitive mouse, keyboard and headphones.
Price:
£120 (Marauder keyboard), £80 (Spectre mouse) £120 (Banshee headset) RRP