Tablets to eclipse e-book readers
Thanks to Amazon and pals' focus on the US
Tablets will outsell e-book readers this year, and will continue to put even more distance between the two gadgets over the next two years.
By 2012, tablets will outsell readers four to one.
So says market watcher IDC, which is expecting sales this year of 17m iPads, Galaxy Tabs and co., and 10.8m Kindles and its like.
Here's how it anticipates shipments panning out in 2011 and the year after: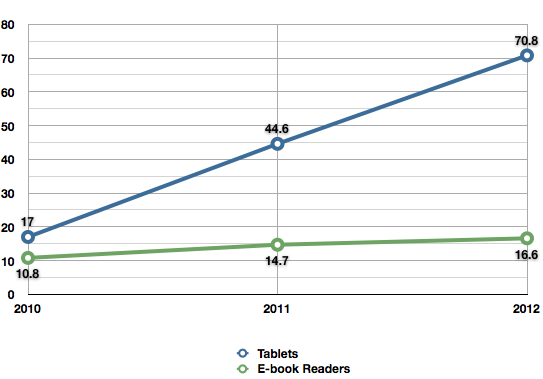 Data source: IDC
There's a very strong US bias in the e-book reader market. IDC said it expects 72.4 per cent of e-book reader shipments to have gone into the US - 7.8m units. Compare that to the 40 per cent of tablets that were US-bound - 6.8m, a smaller total.
All of which goes to show the likes of Amazon and Barnes & Noble, big US booksellers both, have done well selling to their local audience, but by all but ignoring the rest of the world have allowed tablets to dominate internationally.
Ditto Pandigital, an e-book reader maker that focuses on the US, and which took 16.1 per cent of the global market in Q3 2010, second only to Amazon, which notched up a 41.5 per cent share on shipments of 1.1m units. Pandigital shipped 440,000 units, Barnes & Noble 420,000.
After Amazon, the best-known e-book reader maker in the UK is Sony. IDC reckons it shipped 230,000 readers worldwide in Q3 2010, 8.4 per cent of the total.
Third-quarter figures are one thing, but for consumer-centric gadgetry like tablets and e-book readers you really need to look at the Q4 2010 numbers - the shipments made in time for Christmas sales, whether of tablets or e-book readers. These stats aren't out yet - we'll cover them when they are.
Big holiday sales will certainly boost the e-book reader biz, but if IDC's figures are broadly correct, punters will soon favour tablets over readers as Christmas prezzies. ®
Sponsored: Practical tips for Office 365 tenant-to-tenant migration