Volvo demos automobile auto-pilot tech
Vehicle platooning project nears fruition
Hell, said French existentialist Jean-Paul Sartre, is other people. If the EU has its way, it could be other motorists.
Volvo today said it has successfully demonstrated technology behind Project Sartre, the EU's Safe Road Trains for the Environment scheme, which gathers groups of vehicles and has them proceeding down the carriageway in smooth harmony - a metaphor for the EU itself, if ever there was one.
Project Sartre centres on "vehicle platooning", a technique that automatically lines up cars, keeping them moving an even distance apart, at an appropriate speed. Each car monitors what the car in front is doing - its distance, its speed and the direction it's moving in - and adjusts its own speed and steering to keep just behind it.
Line up behind the guy in front of you, press a button, and he'll be effectively driving your car for you until you need to pull off, or he does.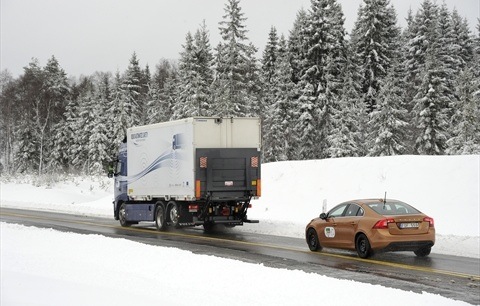 Track the truck...
According to the minds behind Project Sartre, the approach makes for more environmentally friendly driving through reduced fuel consumption, less stress for drivers and better road utilisation since vehicles can be placed closer together. It's safer too, they say, and doesn't require any changes to be made to the road infrastructure.
That's the theory at any rate.
Putting into practice is easier to say than do, but Volvo has successfully had one vehicle follow another - a car behind a lorry - around a "country road test track" in Sweden near Gothenburg.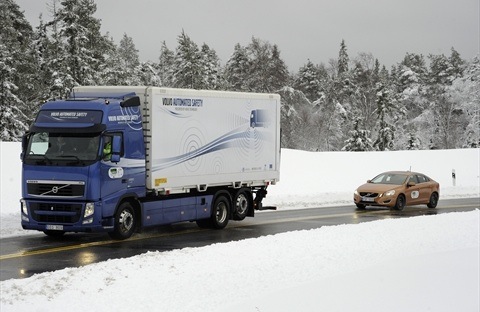 ...for a safe, smooth, stress-free drive
Past tests have been carried out in simulators. This is the first time the various control and monitoring systems - provided by seven companies from four countries - have been run together in the real world.
"We are very pleased to see that the various systems work so well together already the first time," said Erik Coelingh, a Volvo engineer. "The winter weather provided some extra testing of cameras and communication equipment."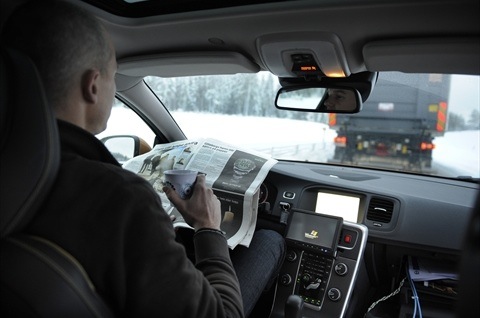 Take your feet of the pedals, your hands off the wheel, your eyes off the road - if you really trust Windows to do it for you...
Sartre boffins believe the technology could be ready for production just two years from now, and vehicle platooning a regular form of motorway driving in ten years' time. ®
Sponsored: How to Process, Wrangle, Analyze and Visualize your Data with Three Complementary Tools