Orange salutes pub game with PAYG promo
Ten pence top up launched
It's all about change at UK telco Orange, which has launched a scheme to allow its Pay As You Go users top-ups from as little as ten pence a throw.
Tiny Top Ups means PAYG customers can walk into any Orange store, as well as any shop that displays the Payzone sign, with a handful of pennies and boost their credit. A 10p top-up is sufficient for a text message, while a 20p boost is enough for a call.
To celebrate the launch, Orange has taken inspiration from the classic pub contest, with a "guess the number of 10p coins in the tube" competition. Follow @ConorfromOrange on Twitter and submit your guess. Get it right and you may win the contents.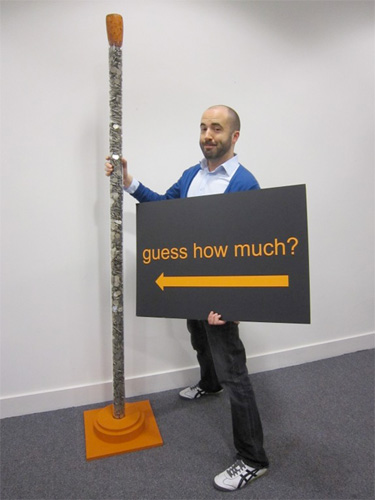 Conor from Orange is 5ft 11 if that helps..
And, by the way, these Tiny Top Ups will be doubled during March for some reason. Perhaps Orange reckon we'll be feeling the VAT-rise pinch more than ever by then. ®