Hope springs eternal for Obama poster plagiarist
One case settled, but Shepard Fairey still faces Grand Jury probe
Associated Press has settled one of its copyright infringement lawsuit with artist Shepard Fairey over the once-iconic, now-ironic Obama "HOPE" poster. The two parties came to an out of court agreement this week, but several other AP claims against Fairey's commercial empire are still to be resolved.
And these could prove expensive – last year Fairey admitted to perjury and destroying evidence in the AP case in order to mislead prosecuters – a Grand Jury investigation against Fairey continues.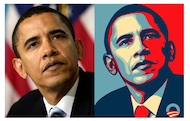 Poster artist Fairey based his career on plagiarism – a long list here includes living artists – but he's not afraid of turning the tables, threatening to sue anyone who uses his own derivative works. And it was Fairey who opened fire first in this case, after AP identified that the poster was derived from an AP image of the presidential candidate at a press conference. Fairey filed suit against AP, seeking a declaratory judgement that he was entitled to use the image under "fair use". AP counter-sued. Fairey's case fell apart in late 2009, when the artist admitted perjury. His legal team, who were also deceived, dumped him.
(Fairey was advised by, but not represented by, veteran copyright basher and Lawrence Lessig.)
In this week's settlement, Fairey promised not to use an AP image again without a licence, and both parties agreed to share the rights for artworks – including the Obama Hope poster.
Fairey was critical of another Obama poster, this one featuring Obama photoshopped to look like Heath Ledger's Joker, with the caption "socialism" running under it. The image had been created by an Illinois history undergraduate, Firas Alkhateeb, and later tweaked by political activists without his knowledge to create the poster. the activists had added the socialism caption – which Alkhateeb said didn't make much sense. ®