JVC intros 'world first' 3D HD consumer camcorder
Double vision
JVC has released the GS-TD1 and claims the gadget is the world's first HD 3D camcorder for ordinary punters rather than professionals.
Folk bored of repetitive Avatar viewings on their new 3D TVs can now paint themselves blue and shoot their own 1080i versions of the film.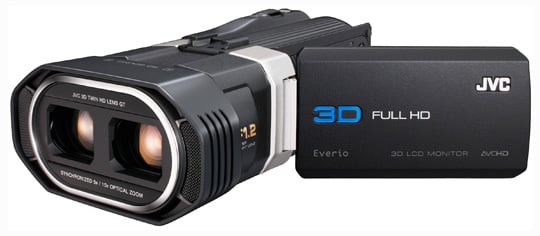 So that's where Wall-E's head went
The GS-TD1 utilises two lenses and two 3.32Mp CMOS sensors. Its imaging engine simultaneously processes the two 1080i images into the newly developed Left-Right Independent Format, which stores left- and right-eye data separately.
Other formats supported include the widely used AVCHD 3D and conventional AVCHD 2D shooting.
The camera comes with 64GB of internal Flash storage, expandable with SD, SDHC and SDXC memory cards, and footage can be viewed in 3D without specs on its 3.5in touchscreen monitor.
Available this March, the GS-TD1 is expected to retail for under £1500. ®
Sponsored: How to get more from MicroStrategy by optimising your data stack