Archos 43 16GB Android PMP
iPod Touch worrier?
Page turner
The display also performs the handy trick of rotating through 360 degrees, no matter what the screen is displaying. Given that all the controls are displayed on the screen, everything is always in the right place, no matter which way you hold the device.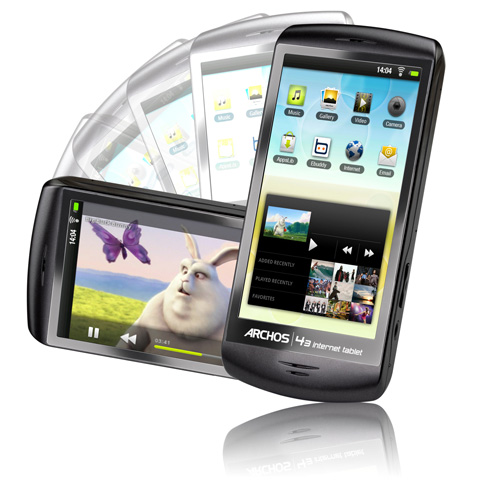 Screen layout follows the orientation
The user interface doesn't stray too far from the Froyo norm, but Archos has added a selection of media applications and widgets. There's nothing revolutionary about them but the 3D picture gallery and cover-flow album selection are a step up from the plain Android norm.
Despite running Froyo, the Archos 43 lacks Flash. While technically supported, Archos has yet to get certification from Adobe, so you will have to wait for the plug-in to arrive before you can watch video in the web browser.

Palm-sized and 9mm thick
Flash apart the 43 can handle an impressive array of audio and video files with Ogg, Flac, MP3, AAC, DivX/Xvid, WMV and H.264 all covered, as well as MKV, AVI, MP4 and QuickTime video containers. Video resolutions are supported up to 720p. Most still image and subtitle types are accommodated too, and if you cough up $15 (£9.50) for the "Cinema" plug-in, you can also play VOB, TS and PS video as well as AC3 audio.
Content can be loaded by drag'n'drop or via an MTP media player, but you can't synch playlists, they have to be set up on-board. Support for gapless albums ripped using LAME is excellent.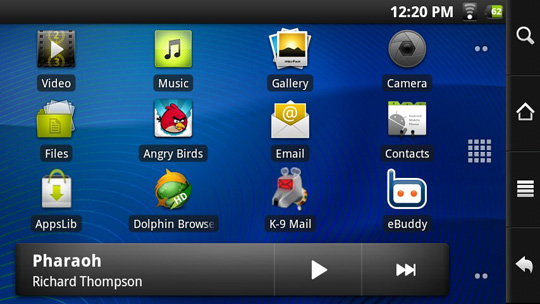 Landscape menu
Not being a Google approved device there's no Google account sign-in, nor Google apps like Talk or Navigation. The Navigation app is not such a big loss because the 43 doesn't have a GPS chip. The Android Market is also absent.