Uncle Sam bankrolls Cray XT6m deal
Colorado State bags bargain teraflops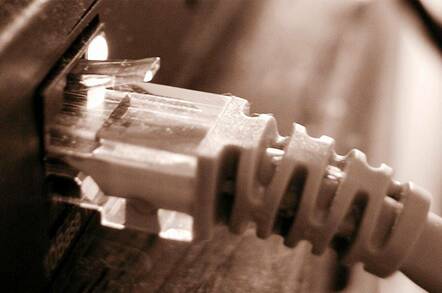 Supercomputer maker Cray can't just sell huge machines to a handful of government and academic labs flush with government funding. It also has to sell them to universities and private companies that are tapping into smaller amounts of Uncle Sam's largess.
So it is with an XT6m supercomputer deal that Cray is bringing online this week at Colorado State University. The Information Science and Technology Center at Colorado State (home of the Rams) got a grant for $627,326 from the National Science Foundation to get an XT6m midrange supercomputer, which is based on AMD's latest twelve-core Magny-Cours Opteron 6100s and Cray's previous generation of SeaStar2+ interconnect for the server nodes in the cluster.
The XT6m debuted in the fall of 2009 and started shipping in the spring of 2010. These machines are not the most current midrange boxes in the Cray lineup: at the SC10 show in November 2010, Cray Cray announced the XE6m midrange supers, which use the same Opteron 6100 processors and DDR3 main memory as the XT6m, but have a 2D torus implementation of the new Gemini XE interconnect that has significantly lower latency and higher bandwidth than the SeaStar2+ interconnect.
For that NSF dough, Colorado State is getting an XT6m machine with 1,248 Opteron cores, 1.6TB of main memory, and 32TB of disk storage. Based on Linpack numbers for an XT6m system installed last June at Sweden's Kungliga Tekniska Högskolan – Royal Institute of Technology – the Colorado State machine should deliver about 10.5 teraflops of computing power.
The interesting bit - and why El Reg brought it up at all – is that Colorado State is paying under $60 per gigaflops for the machine. A year ago, a 244 teraflops XT6 machine installed at the Instituto Nacional de Pesquisas Espaciais in Brazil cost $20m, or about $82 per gigaflops. Some of the price difference is due to the comparison of 2D and 3D torus interconnects used in the XT6m and XT6 machines, and some of the difference is also likely due to the advent Gemini kicker, which puts downward pricing pressure on the SeaStar2+ interconnect.
The XT6m and XE6m midrange supers are aimed at customers who need from 10 to 100 teraflops (up to about 13,000 cores) and who can spend from $500,000 to $3m to get it, according to Cray. Customers can swap out the SeaStar2+ interconnect and swap in a Gemini XE module without changing their blades, and get faster interconnect speeds and build out their clusters. The larger XE6 machines use the full 3D torus version of the Gemini interconnect and can scale to well over 1 million cores – and will eventually scale to around 10 petaflops using AMD's sixteen-core Interlagos Opterons, due in the third quarter of this year.
Colorado State plans to use the new Cray XT6m for designing ultraviolet lasers, and to study weather forecasting, bioinformatics, network traffic analysis, robotics, computational electromagnetics, remote sensing, and magnetic materials. ®