When one oligopoly screws another
Understanding Australia's internet shopping tax row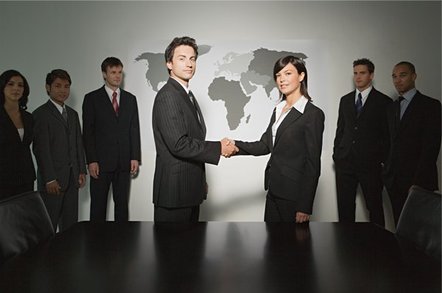 Australia's retailers, led by high-profile Harvey Norman chairman Gerry Harvey, have shot themselves in the foot with a campaign demanding that the government apply its 10 per cent Goods and Services Tax to all internet purchases, and not only those over $1,000.
The retailers, concerned that sales in the Christmas period were only a few percent higher than last year – and seeing with envy the strong growth in online retailing – decided on a strategy of running full-page advertisements in print media demanding that the GST exemption be dropped.
The strategy alerted readers of print newspapers – some of which, presumably, are less internet-savvy than online readers – that bargains may be had online, while at the same time infuriating individuals already favouring Internet purchases over visiting bricks-and-mortar stores. It's a pity that the strategy was so misguided, because it pitted the retailers against their own customers, while drawing attention away from aspects of Australia's markets that work against both customers and retailers.
Who sets the prices?
With the Australian dollar at parity with the US dollar, it's become easy for people to compare the prices they pay against those paid in the US and conclude that Aussies are ripped off.
Which we are: in a quick survey of ten different products, The Register identified an "Australia premium" that can be as large as 65 per cent. In only one case – a Brother printer – were we able to find an Australian advertised price that's lower than what's available in the US.
Here's the list of products we price-checked: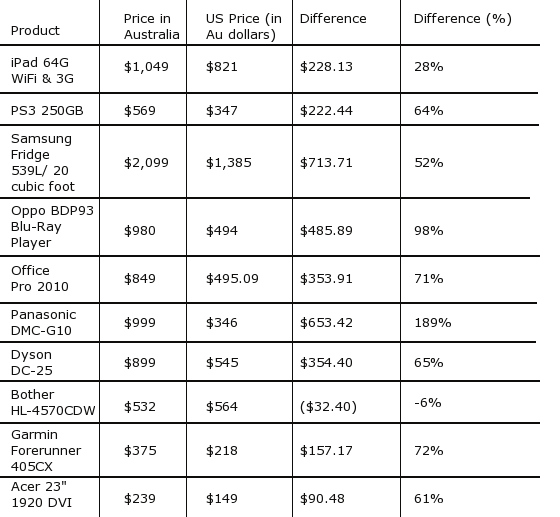 (Wherever possible, prices are the "recommended retail prices" listed on manufacturers' websites. The Brother printer, Garmin Forerunner and Acer screen were priced from the Costco website in America and local retailers in Australia.)
Of all of these products, the only ones to require significant localization are the refrigerator and vacuum cleaner, which need to be built with a 240V supply to suit Australia (and, of course, other markets that use 240V). The iPad needs some localization, since different countries have different mobile networks. Nearly everything other technology product uses an universal supply.
But it's a mistake to ascribe the huge differences to retailer mark-ups. It's far more likely to be a symptom of the small scale of the Australian market. Someone ordering products in the tens of thousands can't demand the same deep discounting as someone ordering millions.
The industry – vendors and their channels – also trot out a variety of self-serving "explanations" for price discrimination between different markets. They will cite relative transport costs, for example, even though it's often cheaper for the individual consumer to transport one unit by regular post from America than to buy something at retail that was (presumably) transported in bulk.
The retailer that has done most to bring price discrimination to the fore is Aldi, which will happily buy branded coffee in Indonesia and ship it to Australia if it gets a cheaper shelf price. The only way such a situation could exist is if the coffee brand were charging different prices in different markets for exactly the same product.
Whether it's simply our lack of bargaining power or something more sinister, it appears to The Register that it's not just Australian consumers who suffer: price gaps probably exist throughout the supply chain.
Sponsored: Detecting cyber attacks as a small to medium business