Casio touts 'Bluetooth Low Energy' wristwatch with 2 year battery
Also: WiFi rodent spotted in Vegas
CES 2011 Casio is showing off a prototype Bluetooth Low Energy watch at CES, hoping that it is battery life that's stopped us rushing out to buy wrist-mounted Bluetooth kit.
The watch, which still lacks a model number, uses Bluetooth Low Energy to communicate with a mobile phone so it can buzz when the phone rings. Not only that, but it can set the time based on the phone's clock – though we can't help hoping that a Casio-designed watch would keep better time than a cellphone clock, and it's hard not to see the whole thing as a solution in search of a problem.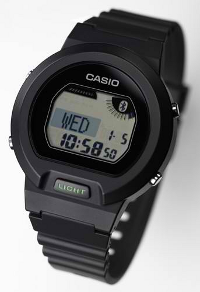 Sony Ericsson managed this years ago, and could show the caller's number too...
Bluetooth Low Energy is based on Nokia's abortive Wibree technology, and is basically a separate radio stack that delivers very low bandwidth at very low power, allowing Casio to promise a two-year battery life for its prototype watch.
Not that Casio is alone in thinking that we're all searching for better wireless communications: Ozmo Devices, pioneers of the using-Wi-Fi-for-everything approach, have been demonstrating a Wi-Fi mouse ideal for all those laptops that don't have Bluetooth of any variety.
Ozmo's technology runs on top of Wi-Fi Direct, the peer-to-peer Wi-Fi technology being pushed so hard by Intel. Ozmo has managed a deal with Logitech to create Wi-Fi-powered speakers, replicating something Bluetooth has been happily doing for years.
But Intel has a decent patent portfolio in Wi-Fi, enough to motivate the company into pushing the technology as widely as possible, while the Bluetooth SIG is hoping that the increasingly-health-obsessed baby boomers will provide a market for its Low Energy variant, though even they probably won't be wanting a buzzing watch, no matter what the battery life. ®
Sponsored: What next after Netezza?