PlayStation phone coming, hints Sony chief
Tablets too
CES 2011 OK, so Sony's networking chief Kaz Hirai didn't announce the PlayStation Phone - or even confirm that this eagerly anticipated gadget is on the way, but he came darn close during his Consumer Electronics Show (CES) presentation this evening in Las Vegas.
He did confirm - twice, in case assembled hacks and analysts missed it first time - that Sony has a series of tablets in the pipeline, though whether Android, Windows 7 or both, he didn't say.
But Hirai did emphasise the a central part of Sony's strategy going forward through 2011 will be to leverage across its product range branding and expertise gained from specific parts of the line-up. He mentioned the PlayStation.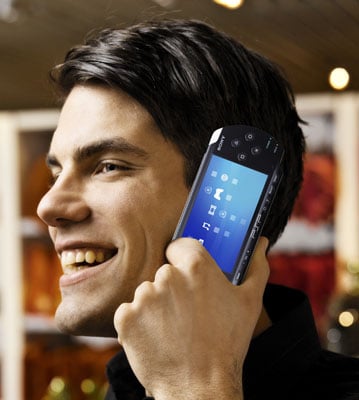 One example is Sony Ericsson's Xperia Arc Android smartphone, which leverages both Sony's telly brand, Bravia, and one of its camera tech brands, Exmor, to emphasise the quality of the handset's screen and camera, respectively.
Sony has done this in the past - the Cyber-shot and Walkman phone lines, in particular - but Hirai implied we'll see a lot more of this in the year ahead and beyond.
Some major announcements will come very soon, he said with a teasing 'you know what I mean' grin on his face. It's tempting to read that as a reference to next month's Mobile World Congress phone industry shindig in Barcelona - surely a likely venue for a PlayStation Phone announcement. ®