CES 2011 Microsoft says it's Touch Mouse - a input rodent with a touch-sensitive top surface - came out of a programme to research how "mouse 2.0" might appear. We're certain it did, but we'd also suggest the company could have saved itself an R&D buck or two by buying an Apple Magic Mouse and copying it.
Bottom line: it's a mouse that drops the scroll wheel for a muti-touch surface, allowing you to flip through pages with a swipe of your finger.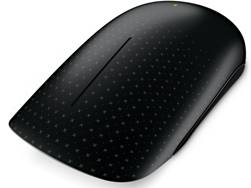 Says MS: "Touch Mouse lets people do everything they are used to doing with a mouse, such as point and click, but also adds gestures with one, two or three fingers to amplify the Windows 7 operating system by creating simple shortcuts to the tasks people want to do most.
"One finger lets people manage individual documents or pages by flicking to quickly scroll, pan and tilt, and one thumb lets people move back or forward through a Web browser. Two fingers manage windows, letting people maximise, minimise, snap and restore them. Three fingers let people navigate their whole desktop, showing instant viewer or clearing their desktop."
Sound familiar?
The wireless gadget comes with an ultra-compact USB adaptor - no Bluetooth here - and, MS claimed, can track on "virtually any surface" - not glass or mirrors, though.
Touch Mouse will be available in the UK in June 2011 for £70. ®
Sponsored: How to simplify data protection on Amazon Web Services