Brick house Xiotech grows new NAS head
Jerks wheel, swerves wildly off previous road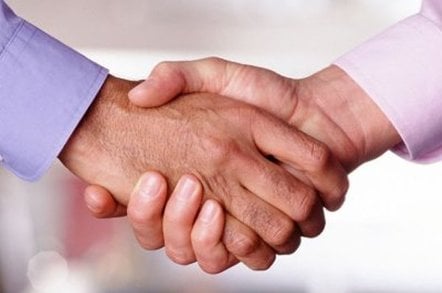 Storage brick supplier Xiotech has quietly changed strategy and built its own file and block access controller for its ISE storage blades.
The company introduced its ISE (Integrated Storage Element) sealed canister of 2.5-inch drives a couple of years ago, and promoted a message that traditional storage array controllers put too much storage management functionality in the controllers. What should be done was to split it, it said.
The lower parts of the storage stack would go into intelligent drive enclosures, like its own ISE, and the upper parts of the storage stack would go up the IT stack generally and run in servers. Result: an unbundled and controller-less storage array.
Last April's ISE NAS (network-attached storage) product was in keeping with this, pairing ISE storage blades as they are now called with Symantec's FileStore, running effectively as a NAS head on top of the ISEs, with configurations scalable to a 16-node cluster. Now Xiotech is supplying its very own NAS head in the shape of the ISE NAS Controller Node. It has apparently reversed its go-up-the-stack stance regarding storage management software.
Like many other NAS heads, it offers iSCSI block-access storage as well as NFS and CIFS file access, but also offers Fibre Channel access. The hardware is a 1U box containing one or two Intel 5600 processors with either 16 or 48GB of RAM respectively, and running Windows Storage Server 2008 R2. Although Xiotech has signed up to use Permabit's Albireo sub-file-level deduplication, this box only offers file single-instancing.
It supports host connectivity using 8Gbit/s Fibre Channel, 1GbitE and 10GBitE. These controller nodes can be clustered to create what Xiotech terms geographically-dispersed multi-node configurations independent of the storage. No upper cluster node limit is provided.
Sample configurations start with a single node entry system and progress through a 2-node cluster to a pair of two node clusters, a scale-out enterprise set up with more than four nodes and, at the high end, an ISE NAS Cluster Scale-Out configuration with more than four clustered nodes. This is claimed "to provide a scale-out NAS architecture capable of managing unstructured data growth globally".
Xiotech says its new box contains WAN-optimised compression algorithms to make site-to-site file copy and replication use network links efficiently. It provides a global namespace, has Active Directory integration, snapshot and backup services.
You can buy a single ISE as an Emprise 5000 product. The Emprise 7000 is Xiotech's storage controller which is supplied with ISE blades to provide a traditional storage array, superseding Xiotech's previous Magnitude array. The 7000 is a 2U box offering 4Gbit/s Fibre Channel and iSCSI interfaces.
We might have thought that Xiotech could brand the ISE NAS Controller Node as an Emprise something-thousand – Emprise 6000 for example – as it has Fibre Channel, and 8Gbit/s Fibre Channel at that, iSCSI and the NAS access. Given the hardware spec of the ISE NAS Controller Node, we could well hope to see a refreshed Emprise 7000 offering 8Gbit/s Fibre Channel, more processing power – think Jasper Forest – and, some time this year, Permabit-sourced deduplication.
The ISE NAS Controller Node has a five-year warranty, like the ISEs it would be twinned with. UK Xiotech reseller JCOM said the list price for an ISE NAS Controller Node entry-level system, with 19.2TB of capacity, is $199,905. ®