Ethics? There's an app for that
Bar code scanner unmasks can of coffee as Compaq server
Ethically-responsible shoppers can get the help they obviously need with a new app that will scan a bar code and decide if your coffee was ethically sourced, or is actually a Compaq server.
The Barcoo app is free to download for iPhone, Android, Symbian and Bada, and provides the usual price-comparison service common to such applications, but Barcoo will also provide an ethical rating of the manufacturer sourced from WeGreen and based on social responsibility including treatment of staff, environmental awareness and transparency in communications.
We can't help thinking that the last criterion was added to allow for companies that don't chose to wear their environmental credentials on their sleeves, but it seems a worthy ideal. Checking around Vulture Towers for barcodes, we were astounded to discover that what we had thought was an innocent tin of coffee was actually a Compaq dx2300, Microtower PC, which would have been embarrassing if we'd put it in the coffee grinder.
Though we were relieved to see that it still has a "Distinctive and consistent taste" despite being ideally suited to business computing and available with Windows 7.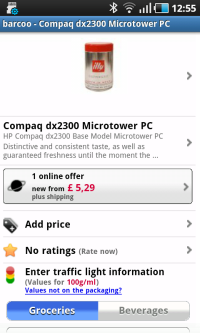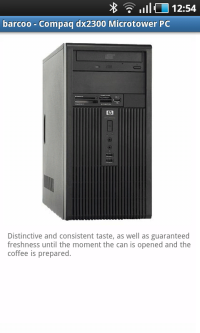 Errors aside, WeGreen needs more data before we can start making purchasing decisions based on it – we were unable to get any ethical information at all on Mars or Walkers, though the software did identify their products. The only ethical guidance we were able to find in our, admittedly limited, testing was on Kellogg's: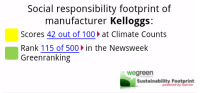 It's a fun idea, though you'd want to ensure your idea of ethical behaviour matches the one that WeGreen defines. You might also want to take the accuracy carefully: you wouldn't want to be caught feeding a computer into the coffee grinder again. ®
Sponsored: What next after Netezza?