Inside the Ordnance Survey's new HQ for the digital era
Building designed with servers – and job losses – in mind
In the past year, the Ordnance Survey organisation has survived a huge government cull of quangos, the prospect of ugly public sector cutbacks and a big shake-up of its licensing model. But the UK mapping service now arguably faces its biggest challenge yet: A move to a new office that, for many of its workers, is already proving to be a major culture shock.
I visited the Ordnance Survey office last month to find out how it will shortly be shifting its staff, paperwork and computers away from the org's fusty old 1960s hospital-like, asbestos-ridden grey building in Southampton to a shiny new headquarters 10 minutes up the road on the outskirts of the city.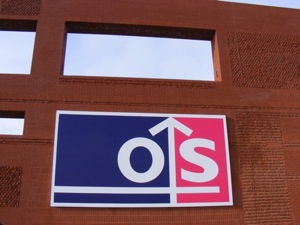 What's most striking about the OS is that while its employee headcount has dramatically shrunk from close to 5,000 workers in the mid-'60s to a little over 1,000 people on its books today, the trading fund has clearly outgrown its current office.
Parts of the old building in Romsey Road, Southampton, are crumbling away, while elsewhere there are sad, abandoned rooms that once housed paper maps – which of course were the Ordnance Survey's raison d'être before the advent of digital technology. Gone too is the obligatory tea lady and her trusty rusty trolley. I can report, however, that a government-sponsored Web2.0 robot pouring tea while providing Twitter updates has not replaced her – yet.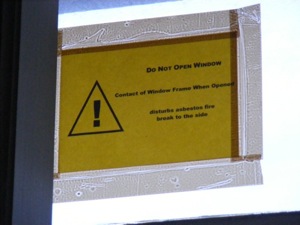 Asbestos warnings feature throughout the old OS building
Interestingly, the OS service plodded on at the old office bereft of a proper server room. Instead, as the computer revolution took off, the old building served as a kind of grand but eccentric old aunt to the demands of new technology that was foisted onto the mapping service.
This meant that there was no air-conditioning for the many servers dotted all over the building. I was assured during my visit that the OS suffered very little downtime due to the fact that it always had a backup system in place. But still, readers of The Register will surely now let rip a collective 'WTF' at such a fundamental neglect of server-humming harmony.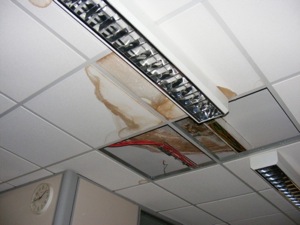 This leak was perilously close to a standalone server cabinet bereft of air-con
No surprise then that the new building simply throws the old one into sharp relief. The Ordnance Survey's board of directors cobbled together £40m to bring it to life during a gestating project that took the best part of a decade to be realised. But the team behind the build got there – and on budget – just as the first government cutbacks from the ConDem Coalition started to fly.