Juniper gobbles Altor Networks in $95m startup snack
Now the beefening of virty cloud firewalls can begin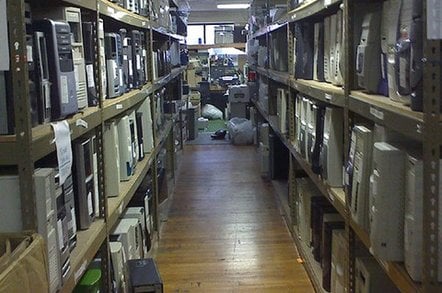 Juniper Networks has acquired partner Altor Networks for $95m in cash, to beef up the security of networks and virtualized servers using its switches.
Altor, which was founded in 2007, is located in Redwood Shores, California, and has created a firewall and intrusion protection system combination that was designed from the ground up to be used in virtualized networks linking virtualized servers to each other.
The company was founded by Amir Ben-Afraim, the former head of business development at firewall maker Check Point Software and a few companies back the lead software engineer at mainframe maker Amdahl, which was devoured by the gaping maw of Japanese server giant Fujitsu many years ago.
Altor lured away Moshe Litvin, who was formerly chief architect at Check Point, to be vice president of engineering on the Altor Virtual Firewall, which plunks into a virtual machine on an x64 server and is used to secure VMs as they flutter around a network using live migration features in server hypervisors.
While there are plenty of server workloads that are not currently virtualized and some that may never be virtualized, Web, application, email, and collaboration servers are being aggressively virtualized. A physical hardware appliance that doesn't understand virtual machines (whether it is a firewall/intrusion protection system or an application caching accelerator) is not something that is going to appeal to customers in this new virtual world.
Juniper said in a statement that it bought Altor not just for its virtualized firewall and intrusion protection system, but also because of the monitoring and compliance tools wrapped around the firewall. These features are important to companies implementing cloudy infrastructure, whether it is for internal clouds or among service providers transforming themselves from traditional hosters (where they sell whole or partitioned servers) to peddlers of flexible cloud capacity (which has workloads scaling up and down and moving around, making many customers especially concerned about security and monitoring).
The Altor virtual firewall runs atop VMware's ESX Server hypervisor, just like rival Cisco Systems' Virtual Security Gateway, which was announced back in September. VMware is, in fact, a partner of Altor's, as is Juniper, which participated in the virtual firewall maker's Series B funding back in March through its Junos Innovation Fund.
Altor raised $10m in that second round, with Juniper and DAG Ventures as well as Accel Partners and Foundation Capital, Altor's founding sugar daddies, kicking in dough. Altor raised $6m from those two equity firms in April 2008 as well as $1.5 in initial seed money as Altor was founded. The company has not divulged its sales and profits, if it has any, nor the number of customers it has.
Juniper has not yet said how it will make use of the Virtual Firewall that it gets from the Altor acquisition, but it would be interesting to see the company deploy the software inside switches (where appropriate) as well as within the server infrastructure. Juniper already sells appliances for intrusion detection and prevention as well as integrated security gateways, SSL virtual private networking appliances, and access control gateways.
It may turn out that Juniper doesn't need Altor for its Virtual Firewall so much as it needs the expertise to turn these physical hardware appliances into virtual ones that run atop ESX Server, so it can sell both physical and virtual security devices.
The Altor acquisition closed today, so the deal is done. ®
Sponsored: Quit your addiction to storage