Sharp Aquos LC-32LE210E 32in LCD TV
Bedroom furniture makeover time?
Review I have to say, I rather admire Sharp for not becoming entirely obsessed with 3D TV, and focusing some of its R&D talent on its innovative four-colour Quattron picture technology. Moreover, the company hasn't ignored adding features to its less expensive televisions, evident in the 32in Aquos LC-32LE210E.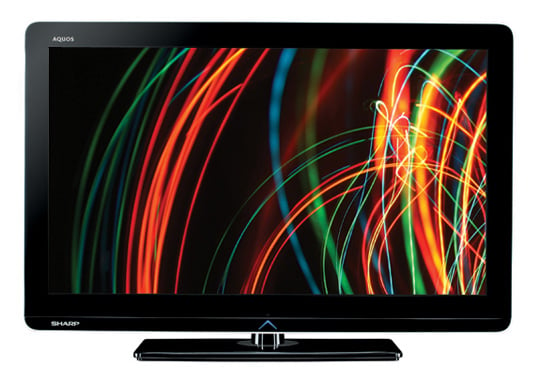 Media friendly: Sharp's Aquos LC-32LE210E
Intended for smaller living rooms, or perhaps for use as a second TV in a bedroom or kids' playroom Sharp's LC-32LE210E has the ability to timeshift and record programmes onto an external USB hard disk or memory stick. You can buy the LC-32LE210E direct from Sharp for £599, but online prices tend to be around the £450 mark. The 37in model is about £100 more expensive but, oddly, lacks the USB recording option.
Initial impressions are quite favourable, as the LC-32LE210E is solidly built and neatly designed, with its edge-lit LED backlighting giving it a fairly slim, 45mm profile. It's tempting to dismiss the 32in screen as too small for the living room – hence Sharp's emphasis on bedroom use – but it'll be a perfectly good choice for anyone that wants to upgrade from an old CRT set in order to get ready for the big digital switchover.
Its connectivity features are relatively modest, but cover all the basics, including three HDMI ports, one vestigial Scart for connecting older VCRs or DVD players, component video and stereo input, VGA for connecting a computer, and SP/DIF for digital audio output.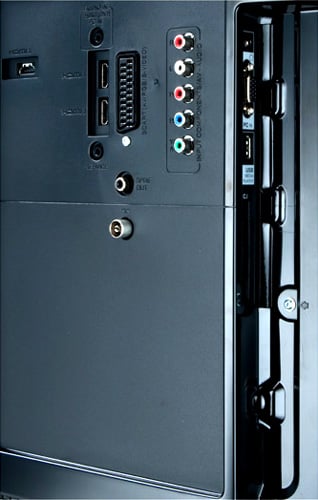 A variety, rather than an abundance of interfacing
There's a single USB port and CI slot, but no Ethernet interface to provide any Internet or video-on-demand services. That omission is acceptable for a TV in this price range, but I was disappointed to see that the Freeview tuner is for standard-definition channels only, rather than providing Freeview HD.