Toyota Auris hybrid e-car
Town and out in a Prius-powered hatchback
Review It's hard not to feel a little sorry for Toyota. Over the years the Prius – reviewed here – has not only been a healthy sales success, but the name has become synonymous with hybrid motoring technology.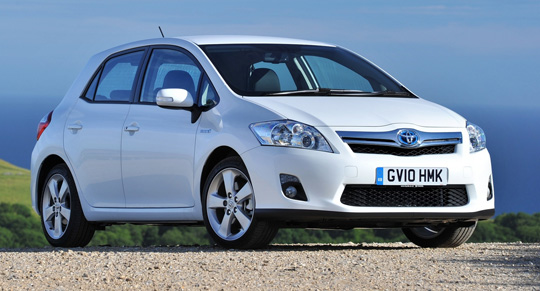 Hybrid hatch: Toyota's Auris
Yet still, the hard-of-thinking and loud-of-mouth insist on telling anyone listening that they are only bought by fools, Hollywood actors and middle class tree huggers. Presumably in an effort to get around this, Toyota has now whipped its Hybrid Synergy Drive tech out of the highly visible Prius and stuffed it into the altogether lower profile Auris hatchback.
The drive train has been co-opted directly from the Prius, so you get the same 98bhp 1.8L Atkinson cycle petrol engine coupled with a CVT transmission with an 80bhp/153lb-ft (60kW/207Nm) electric motor and 13.1kWh nickel-metal hydride battery.
In Power mode that combination will get you from 0-62 in 11.4 seconds and on to a top speed of 112mph. The largely irrelevant 0.9 seconds difference in the zero-to-sixty dash times between the Auris and Prius is presumably explained by a change in gearing, as both cars weigh exactly the same according to Toyota.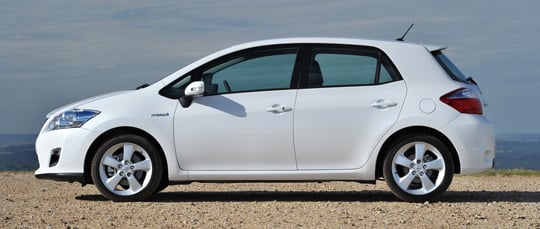 Compared to an Alfa Romeo Giulietta or even a Ford Focus, the Auris looks are rather uninspired
Economy is the raison d'être of the Auris Hybrid and Toyota reckon 74mpg is possible in Eco mode. The best I managed over a very careful 45 mile run was a shade below 68mpg. Drive like a twit and consumption drops into the low 50s. Over the course of a week, I averaged 62.6mpg which means the 45 litre fuel tank can get you 600 miles between fill-ups.