Viewsonic ViewPad 7 Android tablet
Tablet sceptics, prepare to be converted
Netbook nemesis?
The microphone is situated on the left-hand side of the bottom edge, well away from the speakers. Audio Skyping with this device – a quick download from the Android store – is beautifully clear, and in quiet surroundings you won't need headphones.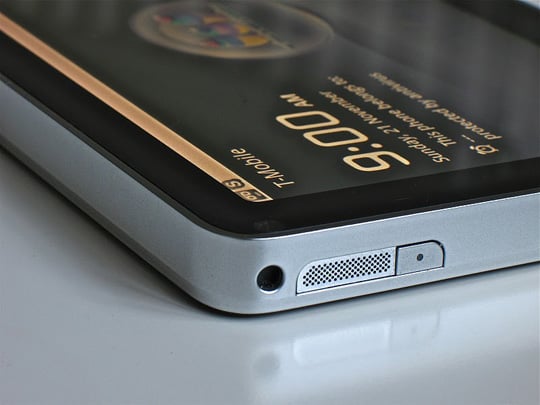 The industrial design is impressive, but not quite up to the standards of Mr Ive
When you do need them, the 3.5mm headphone socket is immediately to the right of the mic, although this probably isn't the optimal place for it, as this makes the headphone jack obtrude, where it messes with the otherwise neat folding support of the black case.
To the right of the headphone socket there's a mini USB socket. This will hook the ViewPad up to your computer as a mass storage device, and is also used for charging. Don't charge from your computer, though, because all you might get like this is a half-amp trickle. The mains USB charger that comes with the kit outputs 2A, and should give you a full charge from zero in a couple of hours.
Verdict
I was tablet-sceptic before I met this machine, but the ViewPad 7 definitely works for me. The screen is big enough for serious couch surfing at home, and the jacket-pocket friendly form-factor makes it a useful travelling companion. You won't be writing War and Peace using any of the various virtual keyboards, but there's scope for serious note-taking once you get the hang of it.
Better still, Viewsonic is currently running a promotion to give you £100 back on the £400 you'll lay down for the ViewPad 7, if you have an old netbook kicking around you can trade in. At £300, this 3G-enabled tablet is very tempting indeed, but you'll have to spend your cash-back on a memory card - this tablet only comes with 512MB of Flash on board. ®
More Tablet Reviews...

Samsung
Galaxy Tab
Archos 7
Home Tablet
Apple iPad
3G 32GB
Amazon
Kindle 3

Viewsonic ViewPad 7 Android tablet
Pocketable 7in Android tablet with 3G for data and calls.