iPad apps: the 10 smartest and 10 stupidest
From the sublime to the 'WTF?'
No. 5
Smart: Instapaper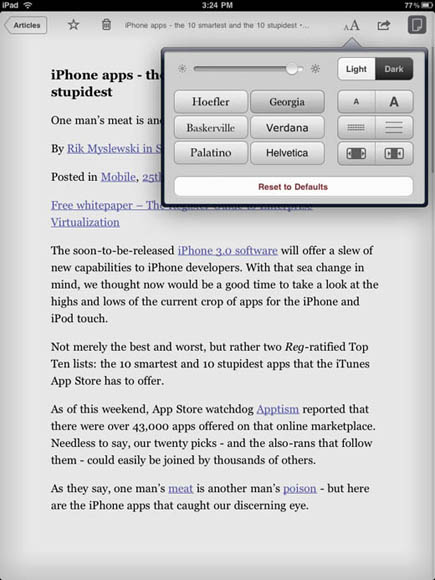 There are apps you don't think you'll need until you use them. Instapaper is one of them
They say: "Save web pages for later offline reading, optimized for readability on your iPhone or iPod touch's screen. Sending to Instapaper is supported by over 135 other iPhone and iPad apps! You can even send long emails to Instapaper."
The Reg says: The idea behind Instapaper is simplicity itself, as is using the app — well, after a somewhat convoluted installation procedure, that is. (Hint: use iTunes syncing to install the necessary "Read Later" bookmark from your computer to your iPad's version of Safari.)
Instapaper allows you to read web content and email while offline, all in a customizable, eyeball-friendly format that provides content that includes only, well, only the content, with all the unnecessary graphics, ads, and the like stripped away.
If you're a reading junkie like I am, this app will allow you to fill up your iPad with all the internet-based content you want, then read it offline — say, on the subway, in your beach cabaña, in the back seat of a Land Rover rattling down the Pan American Highway, wherever.
Price: $4.99
---
No. 5
Stupid: Bright Strobe for iPad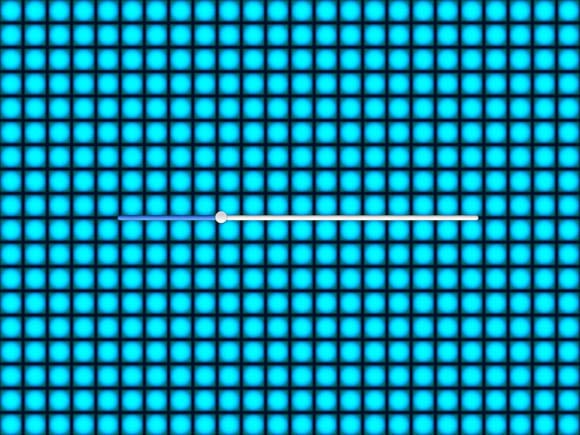 Bright Strobe's slider allows you to control the speed of its flashing — and flashing is all it does
They say: "Download this fantastic iPad app and you'll have absolutely the greatest sensation in your hands with realistic strobe effects! Don't look directly into the device or you'll be very dazzled! (Which is exactly the desired effect!)"
The Reg says: This app's raison d'être is to flash your display, which it does using 20 different patterns — at least, that's as many as we could stand before shutting the blinking thing off. You can tap to access a slider that allows you to control the speed of the flashing, and drag to change patterns.
But be forewarned: "If you experience symptoms such as dizziness, altered vision, eye or muscle spasms, fainting, disorientation or any sort of involuntary movement or cramps while playing the game," the desvelopers caution, "turn the device off IMMEDIATELY and consult a doctor before continuing to play."
Why they use the word "play" to describe interacting with this stupid app is beyond me.
Price: 99¢