A young and pretty Linux server OS that takes a bit of work
Zentyal 2: like Ubuntu, with bits on
Accessories
There are a bare handful of accessories: just a text editor, image viewer, file manager and archiving tool. Actually this is a lot more than an old Unix hand would expect to find on a server, but LXDE is so minimal that it is hard to complain, and this is well in line with, say, a standard Windows Server 2008 install. Unlike ClearOS with its antiquated browser, it is a complete desktop, which depending on your take might be a good or a bad thing. All components are bang up to date.
At this point, the enthusiastic first-time admin is in for a bit of surprise: actually, the installation isn't done yet at all. Once you sign in to the dashboard, you have to choose the rest of the server components. There's a Simple option, which includes objects that look like buttons but aren't, or an expert one if you want to pick and choose – which is what we recommend.
By default, like the other distros here, Zentyal will be a full-featured router, firewall, proxy server and so on, as well as a file, print and email server. Optionally, you can also install either Zarafa or eGroupware for group collaboration. Zarafa aims to be an Exchange replacement, with a proprietary MAPI-compatible connector for Outlook, whereas eGroupware has a web interface, although it also supports Outlook and various other clients.
On the post-install screens, you choose the modules and functions you want. Depending on your choices, the system then suggests any add-ons you might like, such as virus scanning, and after confirmation installs them all. No reboot is required, but then, when applying software updates, the system doesn't ask for a reboot then, either – even if updates such as new kernels have been applied, which are not active until the server restarts. We also noticed that even after the system was fully current according to the dashboard, running apt-get dist-upgrade from a terminal still found a few more, including a newer kernel and the ebox menu system behind the dashboard.
The software-updates screen warns that only "community-supported" updates are offered unless you sign up for a support subscription with Zentyal.com. We tried the free test subscription, which offers online backup of your server config, notification of server outages and updates, and free calls from Zentyal's VOIP server to other VOIP clients (as opposed to conventional phones).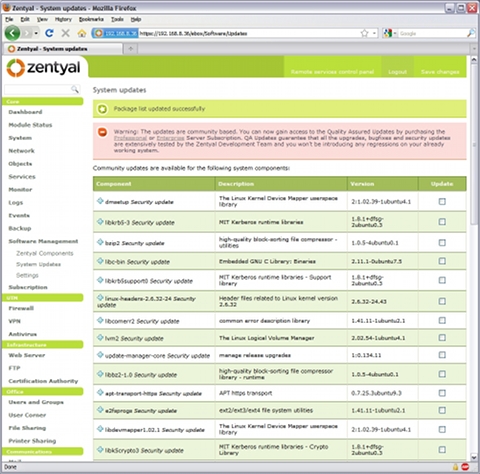 Zentyal's free updates come from Ubuntu, so there's no need to register - but paid users get more thoroughly-tested ones
Installation
Installation thus takes several phases – base system, then reboot, then the modules. Then you must go through the typical cycle of run an update, reboot, then check for further updates and possibly install them and reboot again. It's all straightforward enough, though, and the update-reboot-update-again cycle applies to SME Server, CentOS and pretty much all modern OSs.