Samsung Galaxy Tab Android tablet
Shrunken slate or fat phone?
Bought to book
As usual with Android, e-mail is easy to set up with most accounts requiring just address and password, and the screen's size means there's room for a viewing pane next to the list of incoming messages. The keyboard's big enough (just about) for ten-digit touch typing in landscape mode, but the inclusion of handy keys like .com and @ cause the space bar to be perilously small. There's also Swype keyboard text recognition, which is an engaging way of inputting text, but takes a little bit of getting used to.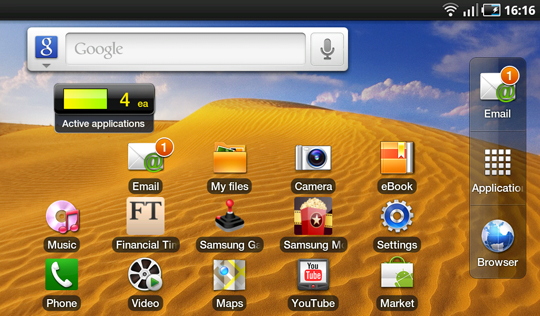 Customisable homescreens - depending on your view mode you can have up to nine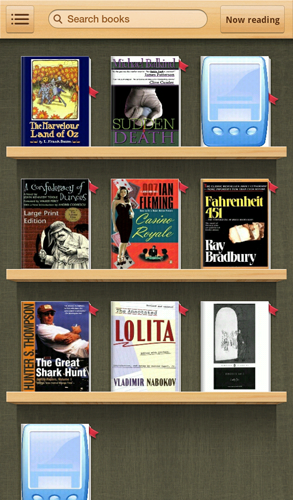 Look familiar? Samsung's iBooks e-book reader
The ePub-compatible e-book app looks strikingly similar to Apple's iBooks in oh, so many ways, though there's no on-line store attached directly. The Reader Hub, however, has a connection to on-line book store Kobo, as well as news and magazine subscription options, some, but not all of them, available for free. There's also a heap of free e-book readers available from the Android Market, including Kindle for Android with its Amazon connection, which worked just fine.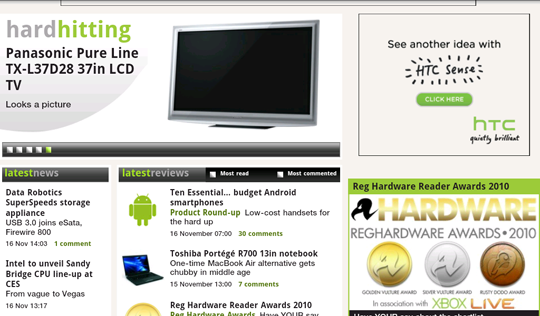 Unlike the Apple iPad, Android's Webkit Browser supports Adobe Flash content
Android's browser generally worked well too, and it supports Flash video, though there were a few stumbles and the odd stall. Nothing to get too hung up about, but it's not quite as smooth as the iPad's relatively seamless browsing experience that is, nonetheless, Flash-free.
While the accelerometer handles switching from landscape to portrait mode swiftly, when rotating the Tab it is all too easy to press the physical buttons on the edge and the touch panel ones at the base. Consequently, you find yourself exiting the window you were viewing or an application, which is something the iPad manages to avoid when handled, due in part to being a bigger device. No matter how careful you are with the Tab, it seems to catch you out one way or another when turning it.