Ballmer, Gates won't slice up Microsoft
Steve's 'genetic makeup' doesn't like the 'dis-synergy'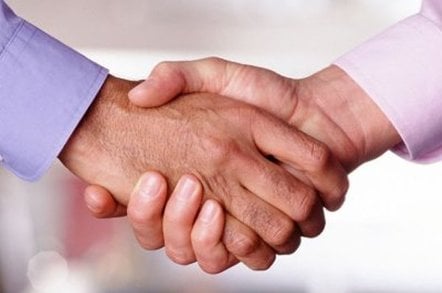 Microsoft held its annual shareholders' meeting in Redmond yesterday, where the company's boss Steve Ballmer once again rejected the idea – first touted by Goldman Sachs – to split the software vendor up.
"I obviously don't think it is time," he told shareholders, according to Todd Bishop at TechFlash.
"I don't think it would be useful. I think it creates economic dis-synergies, in fact. It's not in my natural genetic makeup to think that way but when you get enough people telling you to think that way, you at least go through the proper, disciplined look and in almost all cases, the market goes the other way."
Ballmer said that Microsoft's rivals were in the phone, PC and TV space (Windows mobiles, Windows operating system and the Xbox).
"It's Apple, it's Google, it's us. Divesting something only means creating a harder time competing for all relevant parties," he said.
Ballmer added that the company's Windows tech is applied across its enterprise and consumer businesses, so splitting them up would create (that ugly word again) "dis-synergy".
We think what he really means to say is that breaking up the various wings of Microsoft into separate entities would weaken the company's competitive stance against Google and Apple. He just didn't want to put it in quite such stark terms.
Ballmer then worked his way through the list of Microsoft's other important properties, pointing out that it wouldn't be easy to separate product groups based on what is intended for the consumer and enterprise business markets.
"Our Office business doesn't fit neatly: it's not a consumer business only, or an enterprise business only. Bing is a super-important area for us, not just because of search itself, but a lot of the most interesting stuff that's going to happen relates to this notion of understanding users and understanding the world, and being able to connect them. Search is the first place you do that," he said.
"That general technology base is essential to the company, absolutely essential, and we build it through search, and we built it by being disciplined, and getting after that as a market. Yes, it's expensive, but I would never think about not doing that. I think it's fundamental to who we are, where we're going, and the rest of our businesses."
Microsoft's chairman Bill Gates agreed with Ballmer's defensive remarks about the software giant.
Gates said: "I don't think there's a line where you'll find net simplicity by trying to create a new company."
But brokerage Goldman Sachs recently downgraded Microsoft's stock rating to neutral, in response to the company's sluggish entry into the tablet and smartphone market.
Ballmer also missed out on a top bonus because of his failure to pitch a rival product at consumers, who for the best part of this year have been cooing at Apple's iPad and iPhone offerings.
Worse still, Goldman advised in October that the company should consider "paring back investments and/or divesting more peripheral assets such as gaming".
Clearly, Ballmer and co have thought about such a move.
Indeed, as this reporter spotted during Ballmer's visit to London last month, the company has privately admitted that "Business processes that have remained untouched for years urgently need to be examined".
But Microsoft wants its shareholders to believe that the brand will remain united and MS doesn't plan to break up its units anytime soon.
Ballmer, who by the end of this year plans to sell up to 75 million shares in the company, also tightened his grip on the firm's gaming wing yesterday, by bigging up its Kinect tech, which Microsoft claimed saw sales pass the one million unit mark in its first 10 days.
"People are falling in love with Kinect, and they are just flying off the shelves," he said.
"As soon as people experience controller-free gaming and entertainment, they want it. And the excitement over Kinect is also translating into even more excitement for our Xbox 360 consoles and games." ®