i365 needles VAR channel
Giving VARs a way into cloud backup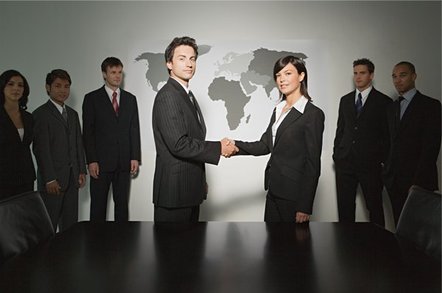 Giving the VAR channel a "poke with a hot needle" is i365's idea of an attractive offer giving small and medium enterprise resellers a way into the cloud backup service business.
The company, fully owned by Seagate, sells the EVault – software running in an X86 appliance – to back up data to its data vaults in the cloud: which is actually space in nine colocation data centres.
Agent software in customers' systems deduplicates data to be backed up and encrypts it, before ending it to their EVault appliance, where it is deduplicated again, compressed, and sent on to one of the nine EVault data centres (rented CoLo facilities, with one in the UK).
It has more than 30,000 customers, including Starbucks, Pret a Manger and the National Gallery in the UK, more than 38PB under management ... and 40 per cent of the worldwide cloud backup market.
EMEA boss Johan Pellicaan, who joined i365 in July, says cloud backup is a threat to resellers, because they face barriers building a cloud-based business model, particularly with cloud technology vendors ignoring the channel's customer links. He thinks 10 to 15 per cent of channel players could be forced to leave the cloud backup market.
i365 has also launched a Cloud-Connected Service Provider program, where the reseller acts as a public cloud-back provider in its own right. The VAR buys an EVault appliance for £15,000 and sells cloud backup services to its customers "powered by EVault", and replicated to an i365 data centre for disaster recovery security.
Restoring lost data online is fine for small files, but not so good for hundreds of gigabytes. This is why i365 has a neat edge here. The reseller, local in a geographic sense to its customers, can send a van and hard drive to a customer in big trouble. This gives the reseller an edge in large-scale recoveries over an international cloud backup provider
The VAR gets recurring revenues, and a sales advantage over the international direct cloud backup suppliers, because who is going to know Czech Republic customers better: a Czech VAR or a US-based backup service provider? They can even sell additional services on top of this.
Pellicaan says he has salespeople to help the VARS and support them, but i365 will never take the business direct or sell direct as it used to. The Europe MD said: "A hybrid direct/VAR model prevents full partner trust."
There is a two-tier distributor:reseller channel and the VARS can sell to differently-sized customers, with the VAR providing the whole deal, then the VAR providing the EVault software for the customer to run on their own kit, through to selling the customer their own EVault appliances. The best deal for the VARs, in the recurring revenue and margin sense, is to provide a service from their own EVault – and they get a volume discount pricing scheme from i365. The more data they back up and replicate to i365, the less it costs per TB. They can pre-buy terabyte packs before getting customers as a way of getting extra margin – but there is no contractual commitment to a certain volume.
Pellicaan said i365 is not about to offer file access to its data centres, and is focusing completely on backup services. His channel strategy is to put the partner in the middle of the game and make the partner the trusted advisor of his customers.
He reckons the approach is a "hot needle" for the VARS - a Dutch metaphor - meaning it's a deal that will get them a rewarding place at the cloud backup service table. A pilot scheme has worked well with lots of business coming i365's way from "needled" VARS.
Pellicaan said: "This is a hot needle for the reseller market to really get their attention and put them in the middle if the business. I need these resellers."
There are around 130 to 150 European i365 VARS and around 30 in the UK. Pellicaan wants more. By the end of 2011 he says he'll have distribution partners in every European tier 2 country.
If you fancy being poked with a hot needle, then get in touch with i365. ®